A model animal cafe: Chiyoda Nyan to Naru Cafe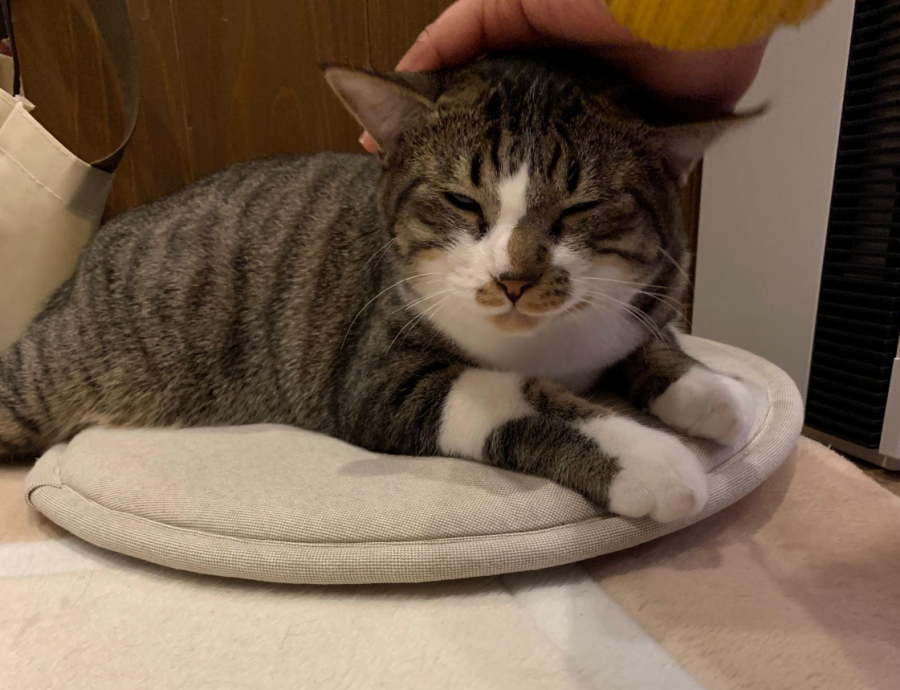 A small shop built in an older Japanese style stands nestled between two buildings in a quiet neighborhood, its large mustard banner like a beacon against the sea of greys and whites of the city. On the banner, the name: "Chiyoda Nyan To Naru Cafe" is printed in cheerful script below a Maneki Neko logo beckoning passersby to come in and visit.
Chiyoda Nyan To Naru Cafe is a rescue cat cafe which aims to help "rescued cats recover and transition into a life with warm human interactions and develop deep connections with humans" according to their website. Though they focus on relatively older cats, unlike typical animal cafes, there is no age limit to the cats they house. The owner uses the cafe setting to help rescued cats (which are all spayed, neutered, vaccinated, and dewormed) become more comfortable with humans, and then eventually find families to go home with.
As a former traditional inn, Chiyoda Nyan To Naru Cafe is a strange juxtaposition of modern and traditional within its typical Tokyo neighborhood. Walking in through the entrance, we were met with dark wood paneling and floors, and it seems that the owners have generally chosen to maintain the Showa-era style, save for a small room separated from the narrow hallway by a glass partition. This room was reserved for the cat cafe, which we were ushered into after replacing our shoes and socks with a new pair of cat-themed socks (that came with the ticket) and washing our hands. Sanitation is very important to the owners. In addition to making customers sanitize their socks and hands, they also turn away those who had visited other animal cafes prior (in the day) to arriving at Chiyoda Nyan To Naru.
The cat room we were led into, though small and narrow, was welcoming. Brightly lit with warm, yellow lights, a sofa on the far wall, heating mats along the floor and cat toys scattered around the room for the cats and customers, it had a reassuring atmosphere fitting for a rescue cafe. Along one wall, cat flaps led to an adjoining room the cats could go to if they needed to use the bathroom or take a break. Despite the close proximity to the litter box in that room, there was no foul smell and everything (including the cats) was clean and well kept. Though small, the lack of space was made up for by cat towers, and what could only be described as "cat shelves" — boards of wood nailed to the walls at various heights for the cats to climb and sleep away from prying eyes and hands, like a mini-indoor jungle-gym. Because the cafe area is small, Chiyoda Nyan To Naru Cafe doesn't house more than six cats at once. At the time we went there, there were only about four cats, a drastic difference from the typical cat cafe on the streets of Tokyo. At the same time, in order to keep from overexerting the cats, only a handful of customers are allowed in the cafe at once, which is why they require reservations in the form of tickets before entry.
As a rescue cat-cafe, Chiyoda Nyan To Naru Cafe, like many other cafes, also sell their animals. But unlike the others, they are very particular about their adoption process, which is specific to each cat. For instance, in relation to one cat, Hana-chan, the owner remarked that because she is so comfortable with people, she will probably find a family really soon. But she will be careful not to adopt her out to any families that aren't good with putting away toys or small objects, since Hana-chan apparently eats everything.
Like Chiyoda Nyan To Naru Cafe, animal cafes can be good homes for dogs and cats alike, depending on the individual animal. With their high standard for animal-care, it is clear that Chiyoda Nyan To Naru Cafe stands as a model for other animal cafes who do not meet these standards. Furthermore, because of the respect that they have for their cats, the cafe not only represents an institution that aids animals in need, but is also an example of an institution that brings awareness to the importance of animal rights, in a country where it isn't as an established concept. Though people knowledgeable of typical animal cafes may be skeptical, as they are right to be, of the benefits animal cafes (as a concept) can have on society and animal rights, Chiyoda Nyan To Naru Cafe is a prime example of the positive impacts it can have. The owners were able to take a concept deeply tangled in abuse and neglect, and spin it into something that can be celebrated.