'Green Book': A Guide to Shattering Stereotypes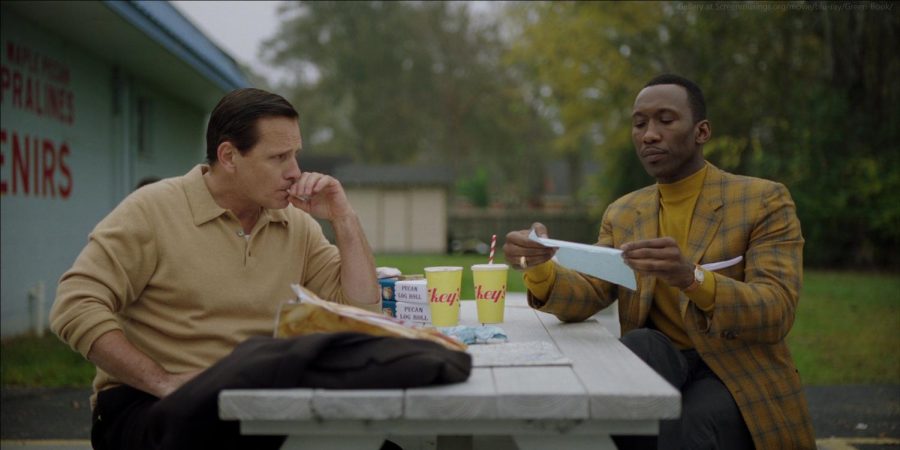 Chihiro H. (10)
May 30, 2019
It's the year 1962. Colored with soft pistachio greens and mellow yellows, "Green Book" presents the story of the real-life relationship between Tony "Lip" Vallelonga and Dr. Don Shirley as they travel alongside each other in a cramped car across the Southern States. However, beneath the light, road trip-like atmosphere of the movie, "Green Book" spotlights the racism, injustice, and prejudice in the US merely 60 years ago. Renowned comedy director Peter Farrelly creates a breakthrough masterpiece, breaking stereotype after stereotype.
Based on his father's true story, screenplay writer Nick Vallelonga spins the unlikely tale of how those with different ethnic backgrounds, Italian and African-American, can become great friends over time. What makes "Green Book" so unique and unforgettable is how the stereotypes of the "white" man and "black" man are switched: where other mainstream, Hollywood films typically feature the African-American as less educated and the "white" man as the wealthy and privileged, "Green Book" is the complete opposite. Here we follow the story of the sly, uneducated and ever-talking Italian hitman, Tony, as he is employed as a driver by intellectual piano expert Dr. Shirley. Director Farrelly elegantly uses the contrast in the atmosphere between different scenes to shock the audience as they realize just how unpredictable, demoralizing and unfair life could be to people of color.
The difference in the intellectual levels of the two men and flipped stereotypes create situational irony, such as when the viewers laugh at comical scenes where Dr. Shirley helps the hopelessly illiterate Tony write love letters to his wife. These scenes, added with Tony's idle chit-chat and the backgrounds of rolling countryside, create a light atmosphere, which is very pleasant to watch.
However, "Green Book" also presents jaw-droppingly shocking racism, whereas simple an act as going into a bar could result in harsh beatings and unjustified police arrests. These scenes are often matched with dark nights, dirty alleyways, creating a feeling of uncertainty and opens the eyes of the audience as they feel as if they themselves are the subject of this ridiculous racism.
However, these harsh scenes are responsible for changing Tony's backward view of African-Americans, whilst also changing our views as the audience of the movie. Beyond a doubt, "Green Book" has the eccentric ability to touch the audience's emotions and morals: it presents a startling look at a real story of the injustices that people of color had to experience and how even Tony, who previously threw away the cups which were used by African-Americans, can change into a man who would protect and care for African-Americans.
We must also do the same, to look beyond what seems to divide us and instead, search for what unites us.