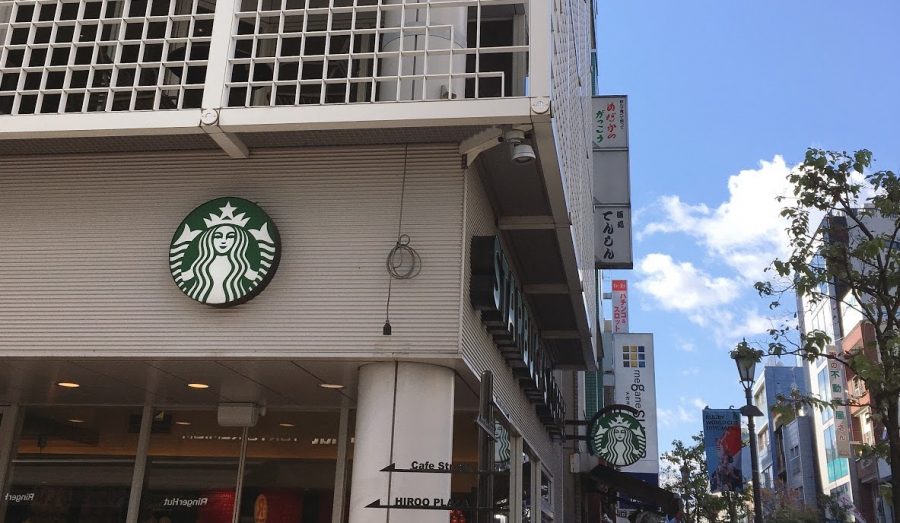 Rina S.
Starbucks
As part of a class project, the Sacred Heart environmental science class recently took a survey based on the stores which were most frequently visited by members of the Sacred Heart. From the survey results, the top 5 frequently visited stores were Family Mart, Starbucks, Hao-cha, Baskin Robbins, and Mcdonalds. I evaluated Starbucks, which was the second most popular store in school, with 60% of the surveyed members reported visiting the store. I had an interview with the store manager to ask a few questions regarding their eco-awareness. With a considerably high score of 18.5/24, Starbucks was much more sustainable than what I had expected. 
Starbucks had the best results in the Waste and Shop Decoration categories, scoring 3.5/4. The rubbish bins were placed on every floor and are divided into different categories such as paper, plastic lids, food leftovers, drink leftovers, burnables and non-burnables. The store had some food samples placed on the shelf, but other than this, the store had no store decorations, which was relatively sustainable. 
The store scored the lowest in Source & Type of Product with a score of 2.5/4. Starbucks is an overseas brand, so many of the products are imported from overseas, especially from the US. On the other hand, products with an earlier expiry date, such as dairy products are mostly from areas in Japan. Unlike the other stores evaluated, Starbucks has a high usage of overseas products.
Starbucks is relatively eco-friendly in areas such as Energy Use, Eco-consciousness, and Packaging, scoring 3/4. According to the manager, the store lights are LED. The air conditioning temperature was in the range we considered to be acceptable. The shop also had an automatic door, which cuts electricity use. Starbucks also allows customers to bring their own bottles for a 20 yen discount on the price of drinks.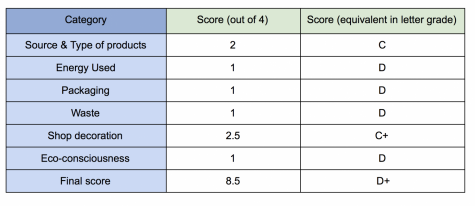 Over the years, Starbucks has made drastic improvements in their sustainability. This is likely due to their commitment to reducing their environmental impact as stated in the Starbucks Global Social Impact Report 2018. Therefore, if you shop at Starbucks, you are not making as much waste as you might think. Starbucks was rated the most sustainable of the five shops evaluated.