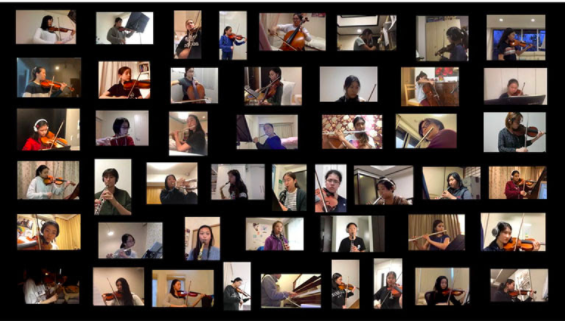 Virtual choir and orchestra performances deliver hope
In the time we are living in right now, the simplest yet most critical concept to remember is our sense of community and support. Sacred Heart's music teachers Mrs. Ema Horn and Mr. George Nicholson have devoted their time to remind us of the ability of how music can string us together and deliver hope to each household. 
Mr. Nicholson conducted Waltz No.2 by Dimitri Shostakovich; a very rich and mellow performance. After sending out a backtrack to everyone in the orchestra, students recorded themselves playing their assigned parts and sent the tape back to Mr. Nicholson who edited the videos into a joint piece.  
Mrs. Horn has conducted three songs, Inscription of Hope by Z. Randall Stroope with the MS choir accompanied by Ms. Awazu, Spes by Mia Makaroff with the Vocal Ensemble, and Flight Song with the HS Choir, and the lyrics have embraced us with warmth. Inscription of Hope is especially a moving piece about how people continue to unite during harsh times, and was written by Jews in hiding during WW2.  Each student was asked to record their own voice following Mrs. Horn's conducting while listening to the backtrack. These individual clips were later on assembled by Mrs. Horn into one video. 
Janice Y. , a senior and participant in both Mr. Nicholson's joint orchestra and Mrs. Horn's Vocal Ensemble performance, has commented on the experience as being a "good chance for us to produce something different." Although not everyone in the orchestra was able to participate, she is grateful for the amount of dedication and time the teachers put in to create these videos. 
Mrs. Horn and Mr. Nicholson's special effort in producing these videos have shown us determination and optimism through these difficult times. The enthusiasm which the students undertook has shone through the instruments and voices together as one.