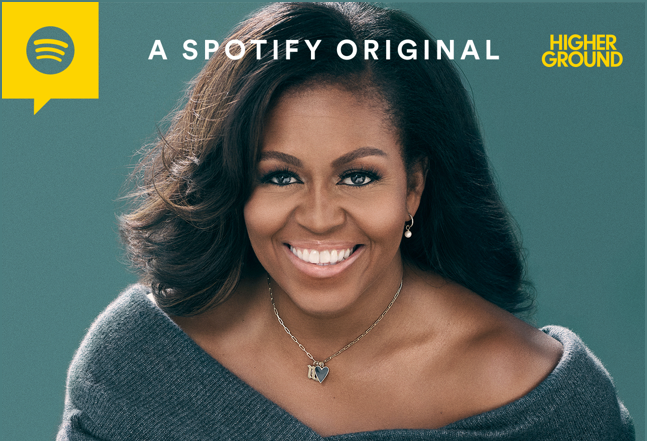 Overcoming challenges through opening up
The Michelle Obama Podcast
Having premiered exclusively on Spotify on July 29th, The Michelle Obama Podcast  holds third place for Spotify's most popular podcast ranking. So far, it has released 10 weekly episodes, each ranging from 40-50 minutes, the perfect length for any podcast: not too long but enough to keep you satisfied and hooked. Whether you're on your way to school, work, or simply taking a refreshing walk outside, listening to Michelle Obama go from a light chat with her family and friends to a deeper, more thoughtful conversation about the complexities of the world right now will guarantee you arrive at your destination with a clear mind and enough motivation to power through the rest of your day. Even though she is the former First Lady of the United States, this conversation really does feel like "sitting together on a park bench or in the booth of a restaurant with the jukebox playing." 
Michelle Obama has touched the lives of multiple people worldwide through her award-winning book, "Becoming", published in 2018, and has also released a Netflix documentary based on the book this year. Her new project, The Michelle Obama Podcast, touches on topics discussed in her book as well as bringing in different perspectives from her guest speakers, such as her husband Barack Obama and mother Marianne Robinson, making it a much more intimate setting. Her special guests range in diversity, from different age groups, gender, and backgrounds, leaving her audience in anticipation for the next upload.
 Although her podcast with her husband and former U.S. President Barack Obama is a must-listen, the episode that particularly stood out to me was "Growing Up Robinson with Craig and Michelle." The brother-sister chemistry that Craig Robinson and Michelle Obama share is so dynamic and compassionate that it feels tangible. Listening to their childhood stories about growing up in the South Side of Chicago and how their parents taught them to balance their aspirations with practicality was an important life lesson that they shared with their audience. 
This episode also dove into Craig Robinson's experience of being black and facing the police. Recounting a time when he was 10 years old and accused of stealing his own bicycle, it is disconcerting to see how the racial prejudice which existed when he was growing up still remains prevalent today. However, even though he was left "heartbroken" from his experience, Craig Robinson feels confident about the future after seeing how much energy and diversity the young protestors have displayed towards changing racial injustices.   
Other guests include The Wall Street Journal journalist Michele Norris covering "Protests and the Pandemic", Dr. Sharon Malone speaking on women's health, the late-night talk show host and comedian Conan O'Brien, and a compelling talk with Michelle Obama and her mentees on being young and black in today's world.
This podcast encourages you to take a moment for yourself to pause and reflect on what you appreciate in life. Although it may be tempting to close yourself off and ignore all the problems you may be facing, a lot of weight can be taken off by having a conversation with someone and unfolding things that have been occupying your mind. As Michelle Obama eloquently states, by "opening up and listening to one another," we will manage to connect "in a way that fulfills and sustains us no matter what is going on." Whether that's a simple "How are you doing?" to your neighbor or a lively debate at your dinner table, attempt engaging in a conversation; it really will make a difference.