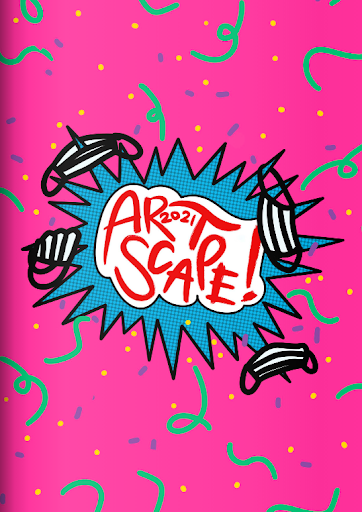 Artscape: An Art Gallery in Your Own Home
Artscape is an event that every student artist looks forward to. According to Mr. Steve Tootell, who taught art for more than 30 years in Sacred Heart, Artscape has been around for 45 years. Its first event was held in 1976; since then, Artscape has displayed over 4,000 pieces of student art. 
This event has always offered a great opportunity to feel inspired and to see the creativity of students from the international school community. On opening night, there would be delicious food catered by the Food Technology elective class, around 150 to 200 people attending, and many pieces of beautiful art represented by the Kanto Plain international schools.  However, in 2021, Artscape was quite different, transitioning from an art gallery to a virtual gallery. 
Artscape took a creative approach to adapting online, with two virtual options to view art. One option was through a virtual exhibition book where each school had its own page and visitors could flip through to see all the art displayed. The second option was an interactive virtual gallery. The virtual gallery mimicked an art gallery, where viewers could look around with each click of the keyboard. Each wall is covered with art just like in a gallery, with each space being dedicated to each school.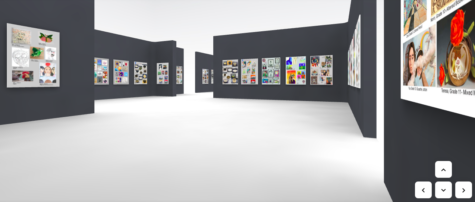 The virtual Artscape gallery which is being represented by 13 Kanto plain international schools.
To get a sense of how Artscape affected the student artists and organizers alike, I interviewed Mr. Amster, Sarah K. (12), and Audrey H. (12) who are AP 2D Art students and were showcased in Artscape years prior, as well as this year. When asked about the "hits" of Artscape, all interviewees agreed that it allowed easier accessibility. Usually, the gallery is held in the Azabu Kids-to-Teens Hall which, according to Audrey H. (12), "takes me a while to find time to go to the place…I can now get access to it quickly. That was a good part because I think one year I missed out and I couldn't go." Sarah K. (12) shared the same opinion of the location, that "the place where Artscape is held is very hard to get to." 
Mr. Amster, being an organizer of the event, provided a different insight into the situation. From an organizing standpoint, he thought that "the fact that everything came together and we could showcase students' artwork" was something that he was proud of. "All the work looked really good, and it was well represented." Additionally, from the U.K., Mr. Tootell commented that he "enjoyed the new format and I think many more people will get to see the show this way."
Having Artscape online has called for many challenges as well. Creating an entirely online format is difficult, and Mr. Amster explained that "there were all kinds of little problems like the pixel size, the different sizes of the images that were submitted, with some having higher resolution and lower resolution." Another issue he encountered was trying to keep the same gray background behind each artwork. "Some schools just choose any color they want to, and I didn't realize how many shades of gray there were." With 13 schools this year, "everyone's trying to submit on time in the same space, in the same format, and with the labeling of the names, it was a little more than I expected." 
Sarah K. (12), said what she misses most is "the mood and environment of Artscape because you get to see others' artwork and their technique. The food from the Food Tech [class] is really good too." She also expressed how "being there with friends is more fun. We get to interact with people." Audrey H. (12) explained that "sometimes the artworks are easier to see when they're not online, and the techniques are hard to tell just from looking into our laptops…being able to see everything all in one space is, in a way, better."
This year, many activities had to be adapted in ways that were never done before, and Artscape was one of those events. The organizers completely modified the way we look at art. Sarah K. (12) noted that as seniors, she was hoping to have Artscape in the gallery for memory's sake. Audrey H. (12) said that she is taking into account that "this year as a special year, so having it online is something I don't really mind." 
I think it is safe to say that despite its many challenges, the organizers of Artscape made the best of the situation, and captured its audience with their innovative virtual art gallery. It is evident that the organizers put in hard work to adapt Artscape, and that is what counts in a time like this. 
Furthermore, Mr. Amster would like to thank all the art teachers and students who worked diligently to put Artscape together, as well as everyone who viewed the virtual formats.