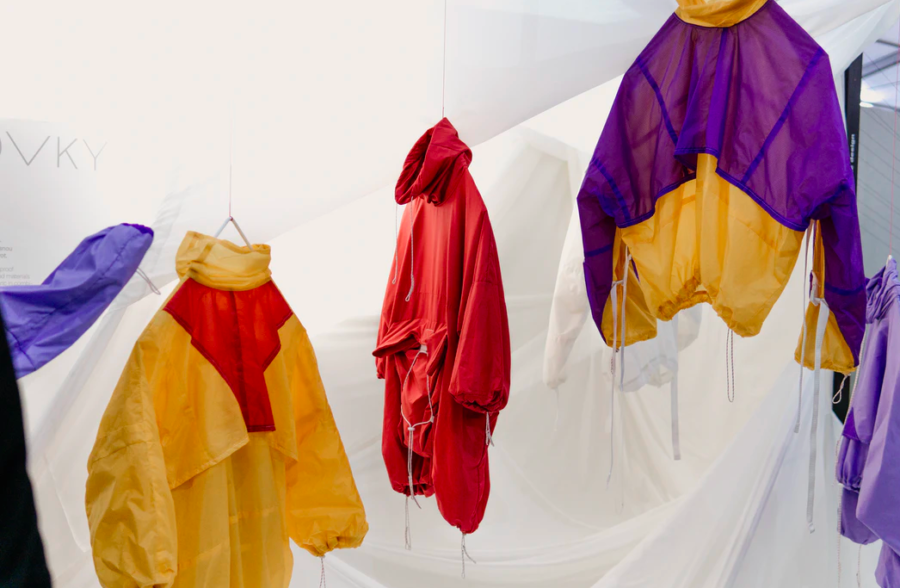 Is your favorite clothing brand sustainable?
In Japan, a country where sustainable fashion is not yet widely acknowledged and second-hand stores are ludicrously expensive, it is difficult for one to shop fashion sustainably. However, it is not impossible. 
The difficulty of becoming a conscious consumer mainly lies in the lack of transparency of brands.  However, with research, downloading a sustainability rating application such as Good On You can help you research brands that actively initiate sustainability efforts and assist you to begin your journey as a conscious consumer. 
The Eco-Fashion class collected data from Good On You to evaluate the brands on the following criteria: planet, people, and animals. 1 being the least sustainable and 5 being the most, each brand is ranked according to how they treat or exploit the workers and the environment.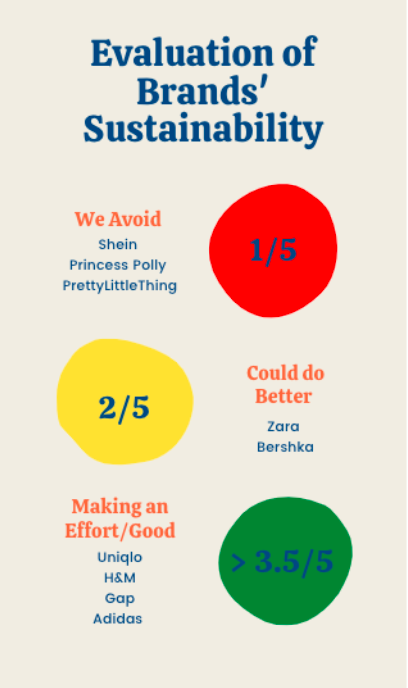 Due to COVID-19, interest in online shopping has grown exponentially. Therefore, it is crucial to understand its impact. Take Shein for example. This particular brand is ranked 1, 1, 3, respectively for the planet, people, and animals on Good On You. The most appalling remark made on Shein is that it is not transparent—they reveal none of their efforts to reduce carbon footprint, initiate work empowerment, and minimize the suffering of animals. They provide misleading information that they abide by the child labor laws in all countries they operate in; it is rather that they omit the truth that child labor laws vary in different countries, justifying their exploitation of 14-year-old children in Bangladesh. 
Shein is not alone. Other popular online stores—Princess Polly and PrettyLittleThing—and some offline stores—Zara and Bershka—share the commonality that they lack transparency and are unsuccessful in becoming ethical and responsible clothing brands. 
Luckily, some alternative brands that have made improvements in their transparency and sustainability can be easily found in Tokyo. For instance, Uniqlo and H&M have started to progress rapidly to the 'good' category of the Good On You scale by promoting their uses of recycled materials and decreasing their greenhouse gas emissions. These brands are especially striving to become more sustainable for animals: Uniqlo is minimizing animal suffering and H&M is following a formal animal welfare policy that aligns with Five Freedoms. Moreover, sports brands like Adidas have conducted research with industry bodies on the detrimental effects of microplastics. Likewise, Gap has implemented various policies that minimize their water waste. In essence, as these brands widely promote their sustainability efforts, they effectively strengthen the public awareness of the environmental impacts of clothing and guide them to become conscious consumers.
Shoppers must open their eyes to the ruthless reality of the environmental harm that our unconscious actions can cause and should vocally support for a change. Alongside the brands that are taking initiative to improve the reality of the workers and the environment, it is ultimately our, the consumers', responsibility to add momentum to this radical change as conscious consumers.