A new era for the performing arts
Embracing social media and virtual concerts in the midst of a pandemic
April 21, 2021
This coming spring marks one year since the pandemic began, leading to performances and events being canceled, or at the very least postponed. Having left many people craving for the arts, the entertainment industry has been exploring new ways to fill this creative void. This past year, we have seen a surge in virtual performances as well as more engagement on social media in an effort by the performers to keep in contact with their fans. While there are different opinions expressed regarding virtual concerts, the question is whether this will become the new norm for the performing arts industry, or if this is a temporary adjustment that will eventually fade away. 
One of these innovative alternatives is virtual concerts which come in different forms, such as being live-streamed on platforms such as YouTube, or pre-recorded and rented out. These digitized performances can easily be accessed by people all around the world, regardless of where the concert is taking place. In fact, you can even binge-watch multiple concerts, grab a snack while you're at it, and take bathroom breaks without the fear of missing out, providing a more convenient and comfortable environment compared to in-person concerts. 
Despite the concert taking place through a screen, chat functions and exclusive events for virtual concerts allow the audience members to feel as though they are sharing an experience with the performers. Hana K., a junior at the International School of the Sacred Heart has attended three concerts in support of the boy K-POP group BTS and has found that in addition to the chat feature used amongst the audience members, concerts such as the 2021 NEW YEAR'S EVE LIVE have also incorporated a virtual meet and greet section which includes an exclusive Q&A interview section with the artists. In another concert that she attended (BTS MAP OF THE SOUL ON:E) there was a raffle where if you won, you could be featured virtually on a large gridded screen behind the artists during their performance. 
Virtual concerts also allow you to appreciate and focus on the specific details of the performance. Anyone who has gone to an in-person concert can probably relate to having had to squint to see the performers, and then grudgingly renting binoculars. Mary C., a junior at the International School of the Sacred Heart and a self-dubbed "performing arts fanatic", has experienced around eight virtual dance and musical performances since the start of the pandemic. She states that she "really appreciated the camerawork and how they zoomed up close to show the minor details of the performance and the different dance formations." In addition to being able to enjoy the performance from different angles, Mary C. said that virtual concerts have also opened up an opportunity to draw in a wider audience. In one performance by the National Theatre in Japan, Mary observed how the theatre itself could have only held around 2,000 people; yet with the online performance, the view rate jumped up to 30,000 people in just one single performance.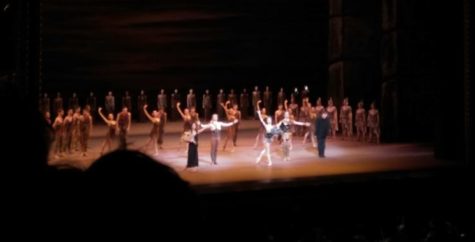 However, no matter how convenient and efficient virtual performances are, the heightened atmosphere that you can experience in an in-person performance is irreplaceable. As Mary expresses, "In-person concerts are more impactful. Being at a concert and hearing the live sound of the orchestra and being at your house with your speaker hits differently. The concert hall was made for it."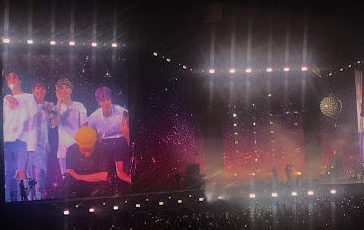 Likewise, Hana K. shares the same view for K-POP concerts, describing that the most memorable experience of being in an in-person concert would be "singing and just being so present at the moment along with many other people in the crowd. Live music and performance are really powerful and at times emotional to experience. That's one part of an online concert that you just cannot replicate through a screen."
Besides virtual concerts, performers have also started to take full advantage of social media. The K-POP industry has been excelling in this field long before the pandemic, creating a stable base for them to continue reaching out to their international fanbase even when events had to be moved online. Over this past year, several K-POP idols have opened up their own personal social media accounts, one being Jennie, a member of the K-POP girl group Blackpink. Revealing her YouTube channel (jennierubyjane) on January 16th as a birthday surprise to her fans, her channel gained 1 million subscribers in the span of seven hours, and her premiering video '"Hello world. From Jennie" has received 29 million views (and counting) only two months after its release.  
The world-renowned K-POP boy group, BTS, has also been active with their social media platforms well before the pandemic hit. This allowed them to seamlessly continue promoting their group through social media during the pandemic. According to Hana K., since BTS could not showcase their new albums to a live audience, they decided to share the creative process and behind the scenes that went into creating their new albums (MAP OF THE SOUL 7, BE) through livestream platforms and Youtube. Livestream apps such as VLIVE were originally created to allow K-POP idols to connect with their fans by broadcasting live videos or chat sessions, where idols could play music, share their hobbies, and even play online games with their fans, allowing for a more unfiltered and casual interaction. In one VLIVE livestream, Hana states how the BTS member Suga (Min Yoon-gi) walked through the process that underwent the making of his mixtape "D-2", which fans greatly appreciated and helped make the mixtape even more meaningful.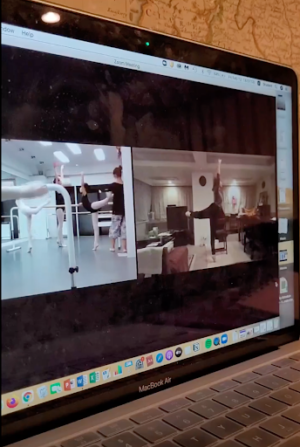 On the other hand, performers such as those in the musical and ballet sectors did not have as much of a wide range of platforms available to them to engage with their fans compared to the K-POP groups. However, there have been some opportunities to engage with these performers. Mary C. participated in one of these events where the British dance company New Adventures conducted a virtual contemporary dance lesson through IGTV, a live-streaming Instagram feature. In this lesson, the ballet dancers provided exercises that people can do at home even in a small space. These livestream classes were also recorded so that people could access the videos on their Instagram accounts later on.
Theatre companies have also actively used their social media accounts to raise more awareness and gain financial support. In August, photos of the U.K. theatre venues such as the National Theatre and the Royal Opera House lit up in red were trending on Twitter, along with the hashtag #WeMakeEvents and #LightItInRed to highlight the financial and unemployment crisis that the arts industries were facing and the much-needed support for freelance artists. As Mary states, "It really hit me when all the theatres in the U.K. lit up their theatres in red because they couldn't keep on going and they needed immediate funding from the government." 
The special moments and the particular ambiance of in-person concerts will ensure that they won't be replaced by virtual concerts anytime soon. In the meantime, having bridged the gap between the performers and their fans during a time of social distancing, we will hopefully see more virtual concerts and continue to have some excitement and anticipation delivered to our homes.