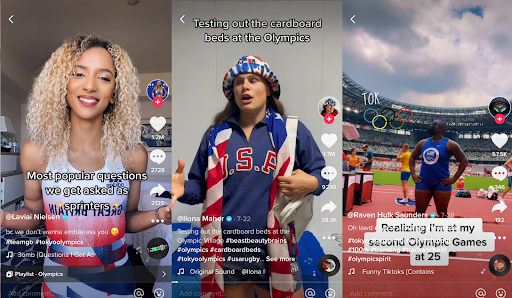 Lavia Nielsen [@lavianielsen], Ilona Maher [@ilonamaher], and Raven Hulk Saunders [@ravenhulksaunders], Tiktok
New media at Tokyo 2020: breaking physical barriers through digital connection
November 3, 2021
Despite pandemic restrictions preventing fans from cheering for the Tokyo 2020 Olympians in person, new digital innovations found a way to connect the sporting community this summer.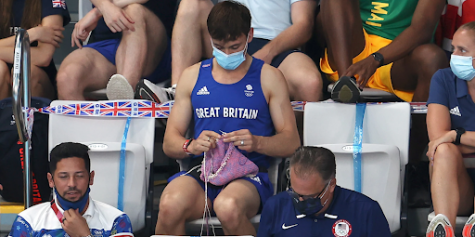 Team Australia swimming coach Dean Boxall cried out in ecstasy after Ariarne Titmus won gold in the women's 400m freestyle, punching the air and thrusting his hips against the railing in celebration. 
Great Britain's Tom Daley was spotted knitting a Team GB cardigan while cheering on his fellow divers.
Canoeist Jess Fox won her first gold medal after using a condom to make some last minute-reparations for her equipment.
The so-called "sex-proof" cardboard beds of the Olympic Village were put to the test by many athletes who jumped on their beds to assess their durability.
 Hilarious moments like these shared by the Olympians themselves went viral on platforms such as TikTok, Instagram, and Facebook, demonstrating the influential role of social media in the Tokyo 2020 Games. Since few in-person fan-athlete interactions were possible due to COVID-19 restrictions, Olympians and worldwide audiences alike found new ways to make the Tokyo Games as 'normal' as possible: promoting social connection while maintaining a physical distance.
Instead of cheering the athletes on from the Olympic stands, international spectators sent their encouragement and faith through TV screens. However, the unique situation of the Tokyo Games also made way for new online streaming methods. For instance, NHK created a website where people could watch games that they may have missed, as well as Highlights videos covering the most viral moments of the day. The site also includes the event schedule, medal counts, and biographies of each athlete. Fans and families also found ways to connect with each other through virtual watch parties using meeting applications such as ZOOM, Skype, or Google Meet. 
Furthermore, the International Olympic Committee (IOC) and the Olympic Broadcasting Services (OBS) created the 'Share the Passion' project, where online spectators could connect with the Olympic athletes through digital mediums. This included the Fan Video Matrix, where short clips of fans cheering athletes were displayed in Olympic venues, and the Cheer Map, which showed the "cheer activity" of fans around the world using a "cheer button" feature, allowing fans to virtually clap for the athletes. The IOC and OBS also created the Athlete's Moment stations, where athletes could contact and celebrate with their friends and families via live stream just after completing their competition.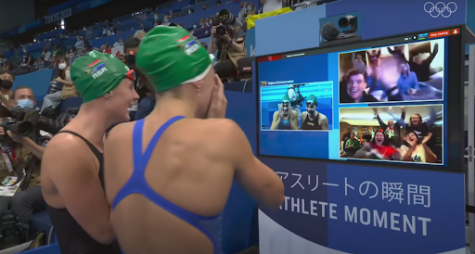 National Olympic Committees (NOC) took to social media to connect with their fans in different ways. According to the Association of National Olympic Committees (ANOC) Social Media Audit conducted by Redtorch, 91% of all NOCs have one or more social media profile/s, Facebook being the most popular platform. The IOC created official "@Olympics" accounts on various social networking platforms which have had almost 4 billion engagements this year, with a following of 75 million altogether. These new innovations meant that although primetime broadcasting of the Tokyo 2020 Games had the lowest viewership of modern games in the United States and in Europe, the National Broadcasting Company (NBC) has stated that almost 6 billion minutes of Tokyo 2020 media was streamed on social media and digital platforms, and the British Broadcasting Company (BBC) reported a record-high of 104 million requests to stream the games online.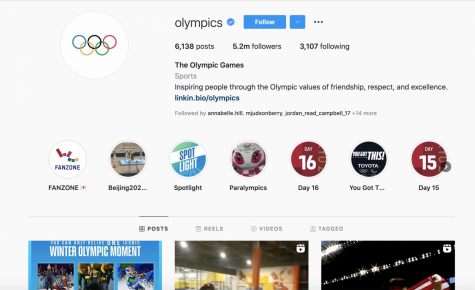 In addition to National Teams, individual athletes have become "influencers" and social media celebrities by sharing their Olympic stories on Instagram, TikTok, and Youtube, giving fans an insider look at life inside at the Olympic Games, village, and arenas. However, these athletes have done more than compensate for the no-in-person-audience rule—social media has allowed Olympians to express their unfiltered selves and show their fans that they are more than just their sport.
Unlike previous Olympics, with the help of social media, athletes were able to share their personal stories directly to the public without the filter of mass media. For too long, professional athletes have been viewed as superhuman, disconnected from the general public. In an interview with Tanya Chen of Buzzfeed News, Ilona Maher, a Team USA rugby player who went viral on TikTok during the Tokyo Games, addressed this problem. "It seems that people are now coming to the realization that athletes are just regular people too," she said. "We are funny and we have crushes and we do fun challenges." New media has helped bring these Olympians closer to us and has humanized them, reminding us that Olympians are normal people who just happen to be extremely talented athletes. 
These new media innovations and insights into our favorite Olympians have been very exciting and entertaining for the worldwide audience. But how have they affected the Olympic athletes? Some Olympians have admitted that they withdrew from social media during the Games to avoid online pressure and hate messages. One such example was Chinese air rifle athlete Wang Luyao, who was attacked by fans on the social media platform Weibo after she posted a lighthearted selfie about not having qualified for the finals. Other athletes like Australian swimmer Ariarne Titmus and American swimmer Caleb Dressel have stated that they distanced themselves from social media to focus on the competition. 
For other athletes, such as Ilona Maher and fellow rugby player Cody Murphy, social media played a positive role in their Tokyo 2020 experience. Media gave them a much-needed break from the stress and anxiety of competing at the Games, the athletes told Chen. "It takes my mind off the games," Maher said. "Sometimes I start thinking too hard about the Olympics and our games that I get super stressed. So TikTok has almost been an escape and a way to connect with a ton of people." Neither Olympian felt that social media was an additional task or a waste of energy, but rather saw it as a source of relief and solace in these difficult times. As sports psychologist Hillary Cauthen said in an interview with Yahoo News, especially for athletes at the Tokyo Games who are isolated due to COVID-19 restrictions, social media can provide much-needed social and emotional connections. "It's a way to connect, a way to tell stories, a way to have a shared experience," she said.
Social media has revolutionized modern sports events. Its role in the Tokyo 2020 Games made it perhaps the most memorable Olympic Games of recent years, and has changed our views on the relationship between digital media and sport.
 But the influence of new media won't stop here, and will only continue to grow even after the pandemic. "We believe these new digital innovations will leave a legacy which we will build on at future editions of the Olympic Games," said Yiannis Exarchos, CEO of the Olympic Broadcasting Services.