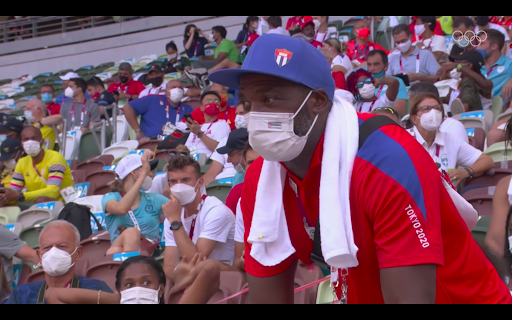 Sportsmanship unifies competitors in Tokyo 2020 Olympics
November 7, 2021
One of the most memorable things about the Tokyo 2020 Olympics was the sportsmanship and unity between athletes. In the Olympic charter, it is stated that "every individual must have the possibility of practising sport, without discrimination of any kind and in the Olympic spirit, which requires mutual understanding with a spirit of friendship, solidarity and fair play." 
These principles were especially notable in this year's games, as well as the three values of Olympics: excellence, friendship, and respect.
Unlike previous years in which the stadiums were lively with audiences from all over the world, the Olympics this year happened without an audience. Although disappointing to people who bought tickets and were looking forward to this quadrennial event, this brought the athletes closer. The sense of camaraderie in the athletes and coaches was created in many individual sports, such as the marathon, long jump, and skateboarding.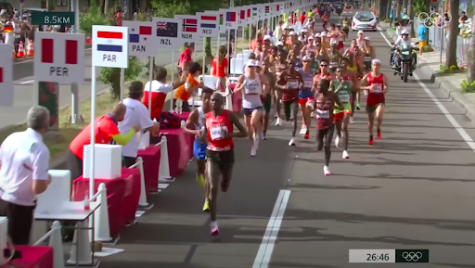 In the men's marathon that happened on August 8, athletes had to run in the excruciating humidity and heat with temperatures reaching over 30 degrees celsius. In this tough environment, runners looked out for one another throughout the whole race by handing each other water and ice. At the first water station, Chinese athlete, Shaohui Yang, gave his water bottle to Lawrence Cherono, a Kenyan athlete, after noticing that Cherono was too far to reach the bottles. Similarly, Kipchoge, Kenyan athlete and gold medalist for this marathon, looked around at each water station to pass his water and ice to anybody who was not able to get one.
In the long jump, the most noticeable difference between the games of previous years and this year was that there was no audience clapping for the athletes during their run ups. The long jump final that happened on August 2nd was done in the quiet and empty stadium in contrast to the liveliness that the presence of the audience created in the pre-pandemic years. However, this did not stop the athletes from supporting each other. Coaches, staff, and athletes from different countries all clapped for the long jumpers during their run ups, bringing back the atmosphere of an audience-filled stadium.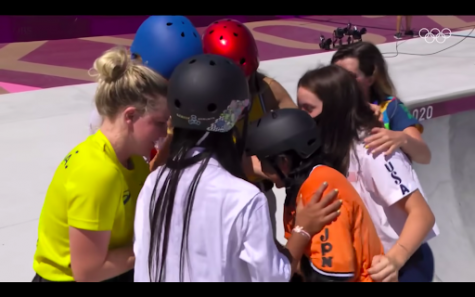 Among individual sports, skateboarding made its debut in the Olympics this year gathering young athletes from different countries to compete in the Olympics for the first time. In the women's skateboarding park final on August 4th, these athletes showed support for each other after their runs. One notable moment was when Misugu Okamoto, a park skater ranked first in the World Skateboarding Rankings, failed to land during her final run. With pressure to do well and expectations to win the gold medal, this last landing was crucial. Immediately after her fall, six athletes from different countries gathered around her to comfort her. The athletes in the skateboarding park supported each other as though they were teammates.
Although there were many restrictions due to the ongoing pandemic, they also helped unify the athletes. We were able to witness bonds between athletes from different countries, creating an atmosphere that we hope to see again in the upcoming Beijing Winter Olympics.