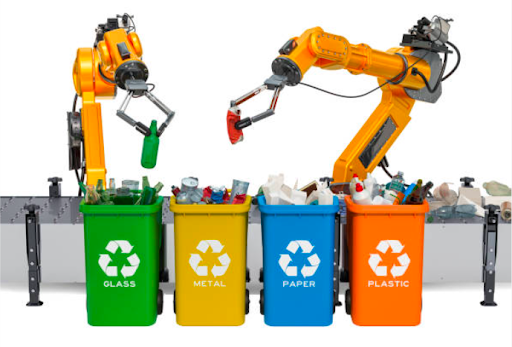 How to improve waste production and management
Waste production, the material and energy used from renewable and nonrenewable resources, and bad waste management, the process of removing human waste, are a problem for the environment because it causes air pollution and climate change. With waste being thrown into landfills, methane, a greenhouse gas, is released into the atmosphere which leads to global warming. Since this is a problem, we need to have technologies to improve waste management and waste production in order to help the environment. 
A: Waste Level Sensors
People across the country rely on services to dispose of their rubbish to minimize going to and from landfills. If companies can install these sensors, then they would be helpful as it predicts how often the bins have to be emptied. 
A: AI recycling robots
These recycling robots are powered by AI and with this, it is able to sort recycled materials and reduce the need for human workers. It saves money and it helps recycle materials that would have ended up in landfills.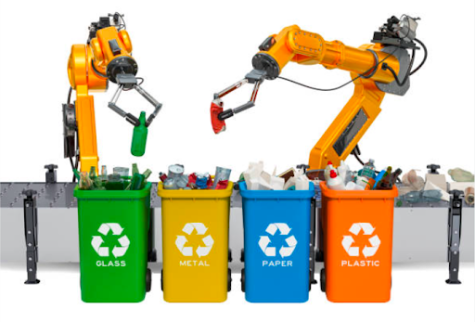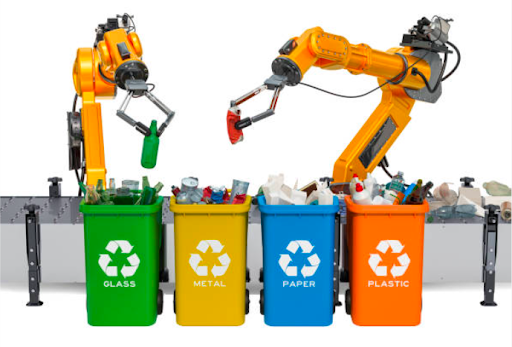 A: Solar-powered trash compactors
Manufacturers created this machine so it can hold up to five times more than traditional rubbish bins. It can compress rubbish and can collect and transmit data to the software to help the collection process.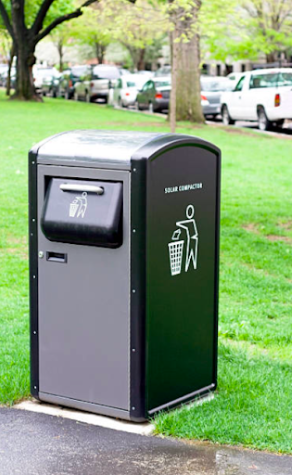 A: Garbage truck weighing mechanisms
Weighing mechanisms are installed in garbage trucks and can help to reduce collection trips. Cities use this technology to predict how many times they need to send their trucks out to reduce annual costs. 
A:

Technologies that turn waste into energy

Certain types of waste and some landfill gas can be converted into energy. Normally, it is released into the atmosphere but it can get turned into energy now with new technology. Bioreactors and fuel cells are examples of technology that can allow waste to turn into energy. Digesters can also turn waste into energy and this technology can be used on a variety of waste.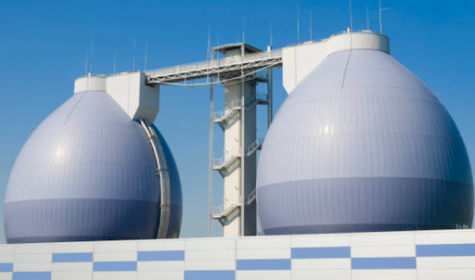 A: Automated waste collection
This technology can transform waste management with sensors that can sense when the container gets full. Trucks have switched from using diesel to natural gas to become quieter. 
A: Route Optimization
This is to protect the environment and reduce emissions by not driving trucks for a long period of time or on long routes as they emit smoke out of the cars which is bad for the environment which is why they are investing in systems and software. Automated trucks have been installed with robotic arms which saves time and effort because normally people would have go get the rubbish themselves and then put it in the truck and then go back into the truck but with the robotic arms, it won't take as long and people wouldn't have to go out of the truck to get the rubbish so it saves effort.  
With these technologies, there will be benefits such as conservation of natural resources, prevention of biodiversity loss from deforestation and desertification as trees are not cut, more environmental sanitation, and a reduction of demand for landfilling of wastes. Companies that invest in tools and techniques to improve recycling will help increase the rate of recycling reducing the amount of rubbish that is being thrown in one bin. This investment also helps reduce the amount of trucks that carry out trash and its emissions as well. Reducing the amount of CO2 and methane gas being released into the atmosphere through better waste management and lowering waste production will help fight climate change and air pollution, making the environment cleaner for the future.