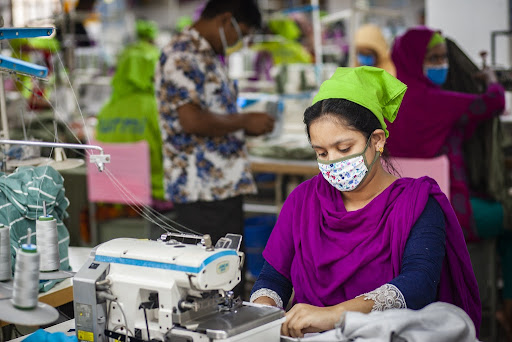 UN Women Asia and the Pacific, Flickr
The COVID-19 pandemic's effect on garment workers
When people look at the clothes they have or clothes that they are going to purchase, it is not often that people think about the workers in factories and the ones that help make textiles. Information from the Worker Rights Consortium shows the average wage of garment workers has decreased during the pandemic by 21% from an average wage of $187 per month to $147. Garment workers' lifestyles aren't easy at all, as they work for 14-16 hours a day, six to seven days a week. At the start of 2020, due to the COVID-19 pandemic, conditions became much worse for garment workers from all the factories closing down.
So what happened to the garment workers and the factories during the pandemic?
During COVID-19 many factories were temporarily closed and a lot of factories could not keep business going during this time, leading to many garment workers becoming unemployed. Workers in Bangladesh were getting paid less because a lot of companies from the US and European countries canceled their orders from these garment factories. Factories in Bangladesh were getting 30% fewer orders than in previous years. This led to fewer factory workers being employed, leaving their livelihoods at risk. Due to orders getting canceled in many different countries, some major retailers still have last year's clothes which would have been shipped off by now. Many apparel companies have even shared their experience and difficulty during the COVID-19 pandemic. One of the many apparel companies that shared their experience is Tal. The apparel company Tal's headquarter is located in Hong Kong, and they have been manufacturing garments like shirts, blouses, polos, outerwear, and suits for 70 years. Tal has nine factories and five offices in seven countries. The number of factories actually went down even before COVID-19 because rents were raised which made many of the factories close down permanently or move locations. Due to all of the factories closing down, many garment workers' livelihoods were affected.
For most of the garment workers, this is their only job meaning it is really important for them to keep working to support themselves. According to research conducted by Penn State University, about one million factory workers in Bangladesh got laid off due to the pandemic. On top of that, from the one million factory workers that got laid off, 72% of them didn't receive their severance pay, meaning the factory workers got abandoned from their job without any savings or new job opportunities. Workers used to be able to work a bit more for extra money to support their income, but now because of COVID-19 they do not have the opportunity to do that.
This is a huge problem for the garment workers and many of them sacrificed and suffered a lot. COVID-19 is still going on and some factories have not yet recovered. If garment workers are unemployed and have no other way to support themselves, they will end up living in poverty.
One way to learn more about garment workers' work lives and the struggles that they go through is to follow accounts like Fashion Revolution on Instagram. Fashion Revolution is a nonprofit organization that discusses the issues about the fashion industry in different countries and sustainability as well. Fashion Revolution has a big platform and tries to show brands that are not paying or are otherwise mistreating their workers in order to show buyers what is happening behind the brand.