Sacred Heart Students Light Up the Lives of Refugee Children
Five secondary schools in Tokyo, including Sacred Heart, will provide aid and assistance for refugees by being a part of the "Refugees International Concert," which will be held at Suntory Hall on November 18.
The "Refugees International Concert," sponsored by the Refugees International Japan, includes choral performances by students from The British School in Tokyo, St. Mary's International School, Seisen International School, and Junten Junior High School. Although ISSH students will not be performing, Sacred Heart is playing a major role behind the scenes.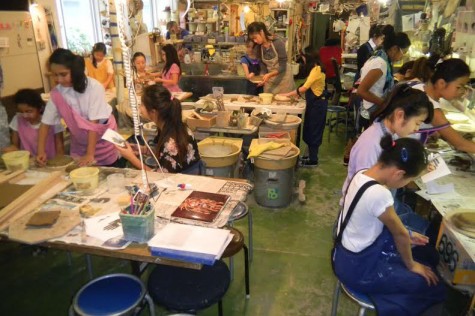 With the assistance of Mr. Tootell, Head of the Creative and Performing Arts department, fifth grade pottery students and grade 11 and 12 students from Mr. Felstehausen's Human Rights and Refugees class, have been making ceramic plates and bowls engraved with the RIJ logo. On the day of the concert, the pottery pieces will be auctioned off to the attending guests. The proceeds will then be donated to relief efforts for refugee children. In addition, ISSH students from various classes and clubs have designed over 80 program covers for the event. Each concert guest will receive an original program cover designed by an ISSH student.
Refugees International Japan is an independent, non-profit organization devoted to raising funds for refugees affected by war and conflict. Their main goal is to be able to generate a sustainable environment and restore human dignity for displaced persons.
Human Rights and Refugees student, Mai (12), commented that, "It was such a fun experience getting to collaborate with the 5th graders for an excellent cause."
The minimum donation to purchase a ticket is 4,000 yen. If you would like to attend the concert contact Mr.Tootell ([email protected]).