Coffee beyond Starbucks
Hiroo is filled with numerous cafes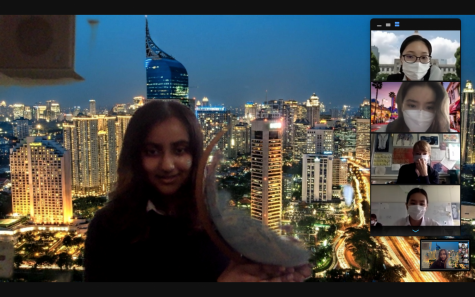 Sacred Heart runs on coffee. Many members of the community can be found either in coffee shops or carrying a bottle or cup full of it. 
However, many still think only of the popular places in Hiroo such as Starbucks and Blue Bottle, even though Hiroo is filled with numerous types of cafes that each have a different type of atmosphere and coffee. 
Here are some places that you should think of, when you find yourself bored of the same coffee over and over again. 
1. Cafe Enseigne D'angle
Opened in 1979, it is a relaxing, mature cafe right beside Burger Mania. 
More of an authentic coffee shop than the others, this cafe keeps true to its traditions, looking and tasting the same as it did when it was opened. As soon as you enter the cafe, you go back in time. The classical music plays in the background and the dark lights and the luxurious seats make it a pleasant place to chat with friends and unwind. 
The staff are all very experienced, so they have perfected the art of making good, hand dripped coffee. I had the Blended Coffee (¥600) which had a nice bitterness without the usual acidity. I also had Cheesecake (¥500), a popular menu choice, which had a nice and fluffy texture. It had a subtle sweetness that didn't overpower its flavor and paired well with the coffee. 
Menus are provided in both English and Japanese, and the staff are friendly. 
Those that enjoy a calm retro environment, and prefer to drink 'real' coffee made by trained and experienced baristas should consider going to Cafe Enseigne D'angle. 
Opening times and Notes:
– Everyday 10am to 9 pm
– The shop is not open on December 3rd and 31st
– There is no Wi-Fi provided here
Address: 広尾 六幸館 2F 5 Chome-15-25 Minamiazabu, Minato City, Tokyo 106-0047
2 . Ueshima Coffee (上島咖啡) Precious Moments 
A favorite of mine, often overlooked because of its proximity to Starbucks. 
However, this can serve as an advantage. It has a pleasing environment with soft jazz music in the background, so those who are just looking to relax can achieve their goal here. There is also free Wi-Fi, with a wide variety of customers: you can find everyone from those working on their laptops, to groups of friends chatting with each other. 
I often frequent this cafe with my friend and have tried almost every single beverage on its menu. I recommend the Hot Cocoa (¥480), which is very chocolatey, and the Caramel Latte (¥560), which isn't as sugary as those typically found in other cafes. The other beverages here are also delicious, and the sugar used can be switched out for brown sugar. I suggest also trying the delicious arrangement of sweets and sandwiches available in the cafe.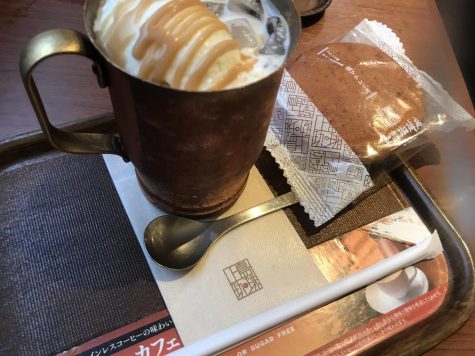 Anyone looking for a calm and pleasing environment to chat will find Ueshima Coffee worthwhile. 
Opening Times: 
– All days:  7 am to 7 pm
– The shop is open on all days.
– This cafe is part of a chain, so it can be found in other locations too!
Address: 東京都渋谷区広尾5-5-1田中ビル1・2F
3. Nem Espresso and Coffee
A cute, organic, and natural themed cafe close to National Azabu that is popular with locals. 
Nems, as it is popularly known, is run by a husband-wife duo that offers different choices of milk such as oat milk, almond milk, and dairy milk. The cozy, self-designed interior of the place provides a comfortable environment to enjoy a drink. Although it is hard to get a seat after school, some waiting can result in a friendly and relaxing experience. 
This cafe is an excellent choice for those who are environmentally conscious, as even the straws and electricity used are eco-friendly. I would recommend the Iced Oat Milk Latte (¥640) which is delicious and flavorful. Trying the various options of food there would also be worthwhile. 
Those that would like to have milk options and those that want to be environmentally friendly yet still enjoy coffee should definitely think about visiting Nem. 
Opening Times and Notes:
– Weekday: 8am – 5pm
– Weekend and Holiday: 9 am to 5 pm
– Closed on Tuesday, and 1st and 3rd Monday
– Taking pictures is not allowed!
Address: 東京都港区南麻布4-5-6
4. Le Grands Arbes
A popular charming cafe/restaurant that is nicely hidden in the alleys of Hiroo, it also has coffee!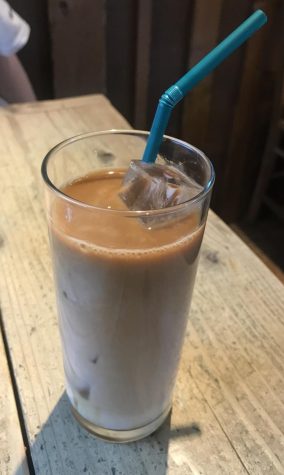 The building it is located in has a flower shop on the first floor, a treehouse, and a rooftop. As soon as you enter the building, the aroma of the flowers welcomes you. The stairs to climb the building are on the side, and you can appreciate the flower shop as you reach the stairs to reach the cafe, located on the third floor. With its wooden chairs and flowers, dining there is like having a picnic in nature. 
The coffee (Iced Caramel Latte ¥620) was not as impressive in terms of taste — it tasted like coffee from a convenience store. Ginger ale (Y620) is a refreshing alternative to coffee at Le Grands Arbes. The cafe also had a wide range of food, which looked very delicious (all ¥1,000+). However, the food did not live up to expectations. The sweets looked impressive, but they had run out by later afternoon. There was a combo (sweets ¥700 and ¥350 drinks) which I would recommend. In short, although the food and drinks are overhyped, the atmosphere makes up for it.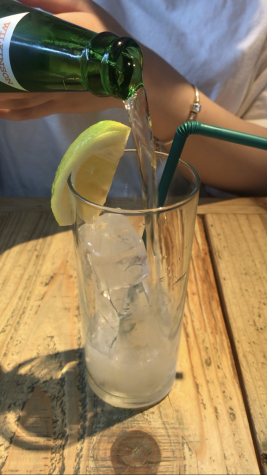 If you prefer a visually aesthetic environment to have coffee and relax in, I encourage you to visit  Le Grands Arbes.
Opening Times: 
Monday to Saturday: 11 am to 10 pm 

Sunday: 11 am to 7 pm

Last orders are an hour before closing times
Address: 〒106-0047 Tokyo, Minato City, Minamiazabu, 5 Chome−15−11 3 階・屋上