I Am Malala: The Girl Who Stood Up for Education and Was Shot by the Taliban
"Who is Malala? I am Malala and this is my story."
Malala Yousafzai (17), an activist for women's and children's rights, beat all odds and won the Nobel Peace Prize, despite being targeted and shot by the Taliban. Her autobiography follows her story from a student who started off as a girl passionate about her right to education, to a girl who defied the Taliban and became a renowned human rights activist. The popularity of her autobiography within ISSH is evident as both copies have been constantly checked out of the library since October.
On the afternoon of 9 October 2012 on her way home from school, Malala was shot in the head by a Taliban gunman. Although the bullet went into her skull and travelled down her neck, she miraculously survived. She was immediately airlifted to the United Kingdom to receive multiple surgeries, including the removal of a portion of her skull to treat her swelling brain and the repair of a facial nerve to fix the paralysed left side of her face. By March 2013, she started attending Edgbaston High School for Girls in Birmingham, England. In 2013, Malala was nominated for the Nobel Peace Prize, and in October 2014, she received the award alongside Kailash Satyarthi, a fellow children's right activist.
On December 10 this year, Malala Yousafzai donated $50,000 of her World Children's Prize toward the U.N. Relief and Works Agency for Palestine Refugees. The money will go into rebuilding 65 damaged schools in Gaza. The ongoing Israeli-Palestinian conflict has resulted in the destruction of many schools, depriving the children in Gaza of education. The United Nations reported that roughly 20,000 homes in the area uninhabitable as a result of the 50-day war, according to The Independent. Malala strongly emphasized that Palestinian children deserve a quality education, and that "without education, there will never be peace."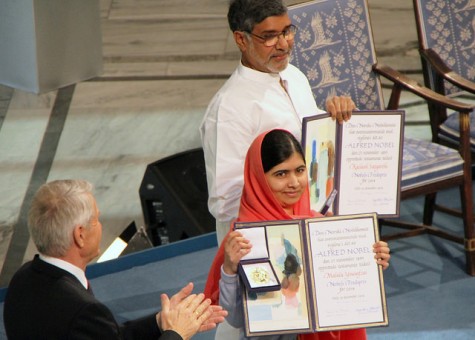 As an all girls school, the ISSH students feel a strong connection to Malala's women's and children's rights movements. Empowerment of women is believed essential in the ISSH community. Because of Malala's advocacy, many ISSH students have become increasingly aware of their privileges compared to girls and children in conflicted areas.
After reading I Am Malala, some middle school students expressed their appreciation for education. Yoshimi (8), said "After reading the book I felt that people who can go to school, like us, are really lucky because Malala had to go through a lot just to go to school." Because Malala is a teenage girl, ISSH students who are also teenage girls feel they have a closer connection to her. As a result, some became more appreciative of their privileges. Kenzie (8), another middle school student said, "I feel that since we are going to an all girls school and are allowed to have an education, it is unfair to the other girls who are not allowed an education." Malala's autobiography strongly advocates for all children's right to education, regardless of gender. Kenzie said that reading Malala's autobiography "reinforced my belief in gender equality." Some ISSH students found it difficult to understand why she is so devoted despite the risks. Sakura (8), who read the book twice said, "Malala was very honest in the book, which allowed me to understand her and feel closer to her more than before. I admire her bravery and determination."
Malala dedicated her autobiography, "To all the girls who have faced injustice and been silenced. Together we will be heard."