February Hits & Misses
Hits: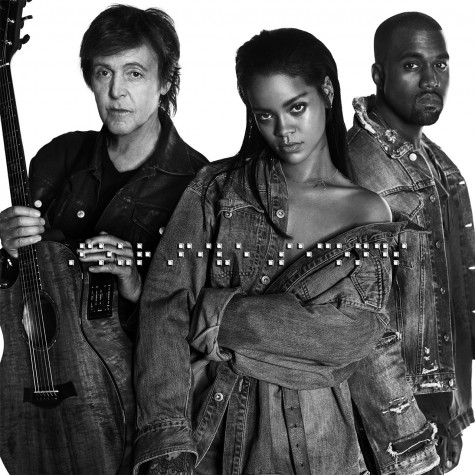 Song: FourFiveSeconds (Joanna)
Although Paul McCartney, Kanye West, and Rihanna seem like the most random trio to ever record a song together, their song, "FourFiveSeconds" is surprisingly catchy. Personally, I am not a very big fan of Kanye West and his frequent displays of "creative expression", but pairing up with Paul McCartney and Rihanna has brought out the best in him. Rihanna, who has been out of the music scene for almost a year, owns the song with her stunning vocals. Although Paul McCartney is charming on the guitar, his vocals are barely audible, which is a disappointment considering he is the most talented out of the trio. However, I must admit the tune was stuck in my head all through February!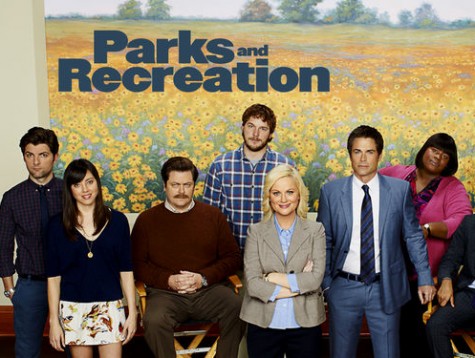 TV Show: Parks & Recreation (Joanna)
Usually TV shows deteriorate after the first couple seasons, but "Parks & Recreation" has majorly stepped it up in its seventh and final season. For those of you who have been missing out on this hilarious show, Parks & Recreation follows Leslie Knope, a mid-level bureaucrat working in the Parks Department of the fictional town of Pawnee, Indiana, as she attempts to turn an abandoned construction site into a park. Although the original premise of the show sounds a bit boring, the show's strong lead role (Amy Poehler), and outstanding supporting cast create a hilarious and entertaining show that follows the mockumentary style of other hysterical shows like, "The Office" and "Modern Family". If you are looking for a light and funny show to relax with after a stressful day at school, "Parks & Recreation" doesn't disappoint.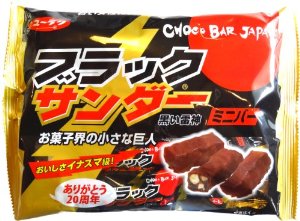 Black Thunder (Tamanna)
The Black Thunder chocolate-cookie bar, filled with crunchy rice puffs, and coated with dark chocolate has been one of February's most popular treats. The chocolate bar not only has the perfect mixture of chocolate and crunch but it is also extremely affordable. Sold at the price of only 32 yen, Black Thunder certainly doesn't burn a hole in your wallet. And for those on diet and those who can't resist chocolate in general, Black Thunder's small size ensures that your cravings are satisfied and your plan still on track. For anyone like me who is constantly craving chocolate and always running short on money, Black Thunder is the answer to all your problems.
Misses: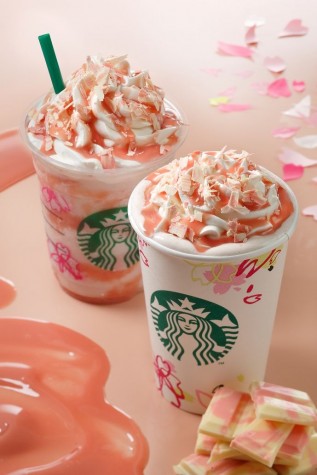 Starbucks Caramelly Sakura Chocolate Latte (Joanna)
First of all, the name is a mouthful. Is 'Caramelly' even a word? I'm usually excited when Starbucks comes out with their interesting seasonal drinks (especially the Christmas ones) but this time, I am sad to say that the Caramelly Sakura Chocolate Latte has disappointed. I was offered a small free taster of this new drink, and I couldn't even finish the tiny cup because it was much too sweet. Also, the caramel mixed with the fruity sakura resulted in a sort of acidic taste, and the chocolate overwhelmed the drink. Stick to the basics, Starbucks, you can never go wrong with a Caramel Macchiato.
Caramelly Sakura Chocolate Frappucino (Moeka)
A similar drink is also served cold- the Caramelly Sakura Chocolate Frappuchino.
As an anti-sweet tooth, I'd go for the above rather than this. If you ask them to go easy on the syrup and the sugar, it is not so bad. But back to this awful, icy drink. The frapp is sweeter than nectar sucked straight out of a flower (if you do not know how that tastes, it's very sweet). It also, quite unpleasantly, has an artificial taste not unlike something you would find in the aftertaste of a familiar children's cough syrup. If you dig that kind of beverage, I do not at all object. However, from my perspective, this one is definitely a no-go. It's simply far too sweet, probably even for the honeybees. 

Bones" (Tamanna)
"Bones" a crime investigation TV Show that has been running since 2005, seems to finally be losing its appeal. Currently waiting to be renewed for their 11th season, the show follows a forensic anthropologist, Dr. Temperance Brennan, also known as "Bones", and her partner Special Agent Seeley Booth in their personal and professional journey through numerous cases. When the show first started it instantly attracted large audiences to its quirky humor and the potential love story between Brennan and Booth. However, as the show progressed and the story developed, it seemed as if the audience and writers were no longer on the same page. The plotline became predictable and the characters stopped being relatable. Bones, who was initially admired for her intelligence and knowledge, now seems to be unusually oblivious to the world going on around her.  The love story between Booth and Bones is being dragged out, even though the pair no longer seems compatible. In conclusion, if you're looking for a show to binge watch over the weekend, "Bones" is not recommended.