Why Should You Work for the EFL Summer Program?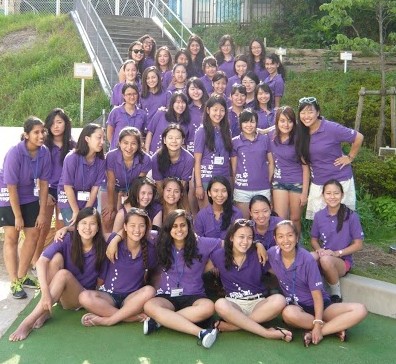 You have probably heard the announcements in assembly advertising EFL Summer Program and how students can make 30,000 yen a week by working as assistants. Sure, this sounds like a pretty good deal, but you might be wondering, what exactly is the EFL Summer Program and why should I work there?
EFL Summer Program is a three-week long program from mid-July to the beginning of August which offers an English summer program to Japanese girls from G1-G6. Classes in the program range from English lessons, art, sports, and water play. Each class is run by one or two teachers, and ISSH students act as assistants who help out with lesson plans, interact with the kids, and create an exciting environment for learning.
Last summer, I worked at the EFL Summer Program for three weeks as a sports assistant. My job was mainly to work with the two sports teachers to make exciting lesson plans for each grade. I also had to demonstrate activities to the students and participate enthusiastically in all the games and activities we played to encourage the students to be active. Some days during the week I helped out the water play class outside on the playground which was a nice way to cool down in the scorching summer heat.
Karen (12) worked as an art teacher assistant for three weeks last summer. We interviewed her about her experiences working at EFL.
Why did you decide to work at EFL?
Because I was interested in gaining teaching experience, and I really like kids. Also, the school is a familiar place to work. It's close to home, and I know all the teachers really well.
What was the best part about working at EFL?
I enjoyed making friends with the students and spending time with my co-workers.
What did you learn from working at EFL?
I learned more about being punctual, because even during the summer I had to be at school on time every day.
Would you recommend working at EFL to other high school students?
Yes, because it is a really good working experience. The students are good to work with, and it's a lot of fun. You are having fun while you are at work. I recommend working at EFL for people who like kids.
We also interviewed Diane (12), who has worked at EFL for two summers. The first year she was a science teacher assistant and the second year she was an office assistant.
Why did you decide to work at EFL?
I like teaching kids so I thought that it would be a great opportunity and experience to be able to teach during the summer.
What was the best part about working at EFL?
It was a fun experience to be able to work with some of the teachers that you usually get taught by during the school year. I was able to get really close with the teachers I worked with.
What did you learn from working at EFL?
Since I was an office assistant last summer, I was able to improve my organizational skills and learn to do some of the things that Ms. Omura might do during the school year. I realized how hard it is to run a school/program and keep track of all of the students.
Would you recommend working at EFL to other high school students?
I would recommend other students to work at EFL. It may get quite hot on some of the days, but it's such a rare opportunity to be able to work beside your teachers in your own school. Also, if you like spending time with kids, then you're getting paid for doing something you enjoy.
Although working at EFL was definitely tiring, it was an extremely worthwhile way to spend a few weeks of my summer. Not only did I get valuable work experience to put on my resume, but I also had a blast with the students and the other ISSH family and teachers who were working there. Working at EFL is a great way to keep yourself from being lazy and unproductive in the summer, which is something we are all prone to in those long two and a half months.
If you are interested in applying, please speak to Ms. Mehta or Ms. Shiozawa.