Change starts with educating the youth, educating children begins with Room to Read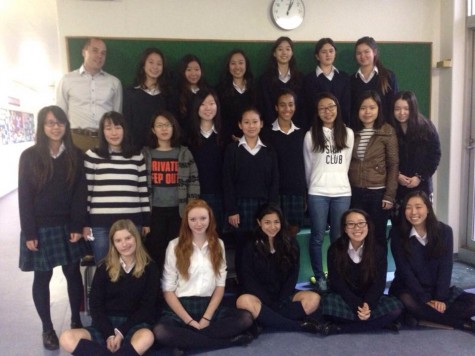 Echoing the efforts of the non-profit organisation, Room to Read (initiated by John Wood), the Room to Read school club aims to promote literacy by reducing gender disparity in education. This year, the 24-member club has focused their efforts on Nepali school children.
Recognising that two-thirds of the world's illiterate population are girls, Lisa (10), Mizuki (10), and Katie (10) first formed the Room to Read club in 2014. The Room to Read motto (engraved on the Room to Read club's donation boxes), "World change starts with educated children," has spread throughout the school.
So far, the Room to Read club has been involved in multiple fundraisers for Room to Read Projects and the SEEDS organisation (a school endorsed program that aims to support the education of Nepali school children by building their school cafeteria and providing LED lights). For example, the Room to Read club has participated in providing stationary such as pencils, erasers, markers, and colored pencils to Nepali schoolchildren. In addition, the Room to Read members have also sent letters to the Nepali school children. The Nepali schoolchildren responded by describing their daily lives in school and their hobbies.
On describing this experience, Saya (11) said, "You feel good by actually communicating with them through pen and paper. Hearing the voices of the Nepali schoolchildren really helps in establishing a stronger connection to the cause we're donating to." These letters have been displayed across the bulletin board next to the library.
Room to Read also distinguishes itself from other clubs by collaborating with other school clubs on larger-scale projects. For three months last year, Room to Read worked alongside the manga club to publish children's picture books. These books are now on the shelves of the junior school library at Sacred Heart. Darya said, "The process was really fun. It was unique to be able to share our experience with other clubs by meeting at a common point."
In addition, the Room to Read Club, alongside the Fitness Club, is also organising a Color Run that will be held on May 16 on the school playground. Participants have an entrance fee of 300 yen and will receive colored powder that they can throw at each other. This event is similar to Holi, a Hindu spring festival where people pour colored water over each other. The proceeds of the Color Run will be donated to the Room to Read organisation which will use the money to install libraries in schools in Asia and Africa.
Lisa, the founder of the Room to Read club, hopes that by "participating in club activities we are taking a step closer towards positive change. We carefully craft and execute our activities knowing that we must first start at a community level." The student-led Room to Read club decision's are equally shared and contributed by the members. Mr. Gray, the club's sponsor, acts as a guide by ensuring that all ideas are feasible.
Mina, a member of the club, notes the club's relevance to the goals of Sacred Heart, "ISSH strongly believes that social awareness impels action. The goals of Room to Read are interlocked with this theme. It was founded by a student, and run by a student that wanted to apply this idea. Room to Read is an ideal platform to amplify ISSH goals."
To find out more about the Room to Read non governmental organisation, visit this link:
To know more about the Nepal SEEDS program, check out this link:
http://www.issh.ac.jp/page.cfm?p=581