Unmasking the magic of the masquerade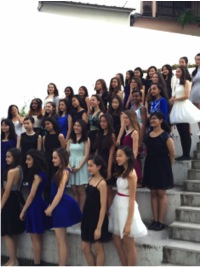 The annual 8th grade Semi-Formal was held at ISSH on May 8 in the AV room, from 6 p.m. to 8:30 pm. Students from Sacred Heart, St. Mary's International School, and Seisen International School attended the dance. Following this year's theme–Masquerade, the students wore Venetian masks that complemented their bright and bold outfits.
The AV room and the entrance were decorated with Masquerade-themed ornaments. The photo booth in the back of the AV room was popular among the attendees. Throughout the evening, students continuously enjoyed taking pictures at the booth with their friends. Like the photo booth, the food and drinks prepared by the parents were also a huge hit.
For the first couple of minutes, the students from all three schools stayed within their school groups. As few students started mingling with the other schools, more students followed and started dancing along. By 7:00 p.m,  the AV room was a "mad house". The 9th grade DJ's kept the audience entertained with popular, upbeat songs.
As the evening drew to a close, many students shared their social media usernames with new friends. As ISSH students headed out the door, the parents handed out mini flower bouquets, bringing smiles to the students' faces. This was the very last dance for the year, and for the grade 8 students, the most memorable one.