Beyond the zoo gates
Mayuka Thais advocates for animal rights through art and music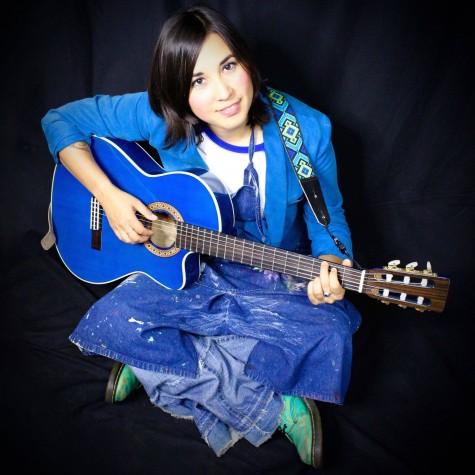 Former ISSH student and teacher, Mayuka Thais, shares how she merges her two passions, art and elephants, to advocate for the rights of animals.
Mayuka Thais is an award-winning multi-faceted singer-songwriter, artist, art educator, and motivational speaker for youth. Born in San Francisco to a Japanese father and a Caucasian American mother, she grew up in both Tokyo and California. In October, Mayuka visited ISSH to speak to juniors and seniors at ISSH about how she uses her art and music to encourage change and bring greater awareness to animal conservation.
At birth, Mayuka Thais caught a serious disease similar to the flu. Doctors in the IC Unit did not expect her to survive. However, Mayuka's grandmother placed an elephant doll into her sick granddaughter's incubator for comfort and company. Mayuka recovered miraculously. Ever since, Mayuka has loved elephants.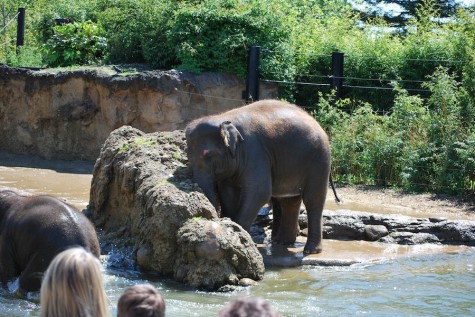 Mayuka grew up as an artist, writing songs with her mother, performing on national television, commercials, stage, and bilingual multimedia albums. She was asked to sing her original song, "When Elephants Cry", at the LA Comedy Store for celebrities supporting animals in captivity. During the event, she met former LA City Councilman now Congressman Tony Cardenas, who was also advocating for elephants saying, "Elephants don't live in zoos; elephants die in zoos." She was then given the opportunity of accompanying him on a speaker tour in the San Fernando Valley.
She went on to win numerous art, ecology, and song awards in both Japan and in the US. She has also taught art in international schools in Tokyo, public and charter schools in California, and at Otis College of Art and Design in Los Angeles. Elephants are frequently the focus of her work. Her most recent album, "Tusks & Horns", produced by Geoff Levin (former member of the group "People!"), also advocated for elephant rights.
The turning point at which Mayuka chose to devote her work to advocating for elephants' rights came when she encountered an elephant held in captivity at a zoo. "The elephant was nodding its head, which is a sign that it is suffering from neurosis," said Mayuka. Zoos rob the elephants of extended social relationships and the opportunity to walk long distances, which are their most basic needs. "What disturbed me was that a young child was mimicking the elephant and nodding her head, completely ignorant of the fact that the elephant was suffering from neurosis," she said. This incident triggered her to start advocating for the rights of elephants, and animals in zoos. She wanted to get across the consequences of restraining large animals in a confined area to as many people as possible.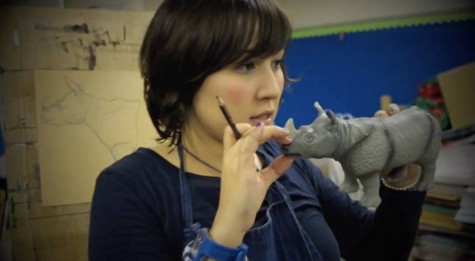 Through social media she was able to connect with Dr. Deepani Jayantha who works for the Born Free Foundation in Sri Lanka and studies Asian Elephants and Dr. Joyce Poole, founder of elephantvoices.org, who studies African Elephants. Her work and social media presence also connected her all around the world and has brought her all sorts of opportunities to spread her message about elephant conservation. Mayuka said, "I volunteered at the Elephant Nature Park in Thailand to understand what it takes to care for Asian Elephants and to meet Lek Chailert the founder." One of the highlights of her life was the opportunity to meet Dr. Jane Goodall.
Mayuka explains that she faces conflict from time to time from people who do not agree with her views and work. Some would even point out that what she is advocating for is too ambitious, but she believes that every voice makes a difference. She acknowledges that, "not everyone is ready to understand your passion or support it. You cannot judge people and you can't make them understand you. In their own time they are going to understand." Mayuka emphasizes the importance of following one's passion and "being kind to all living things."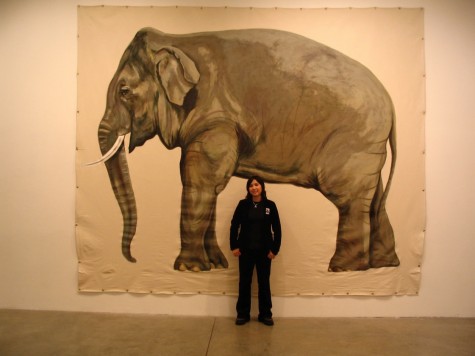 Many students who watched her presentation were inspired by her determination and achievements. Anjana (12) said, "Since I have a strong passion for music as well, it was nice to see an example of a person who is pursuing both her passion and her life's goal at the same time. It encouraged me to tie music into some of my lifetime goals."
When Elephants Cry:
Tusks & Horns: