Fourth graders get a sneak peek at middle school excursions
From April 20 to 22, six eighth graders accompanied a very excited fourth grade class on their very first three-day excursion. The counsellors were Sarah, Hana N, Harshita, Chinatsu, Alice, and Karin K. They were all very nervous, but excited for the trip.
Tanzawa is best known for its mountains and rivers, which give people a great way to appreciate nature that is hard to come by in Tokyo. To the eighth graders, going to Tanzawa was a way to get to know the fourth graders. "I really wanted to spend time with the fourth graders because they were so cute," said Sarah (8), one of the counsellors for the trip. "I also wanted to be there because I wanted to make their Tanzawa trip the best they could ever have."
The students travelled by bus for two hours to reach their destination. Then, they got into their cabins with futon style beds. After a full night's sleep, the fourth and eighth graders started their day by going to one of the rivers in Tanzawa. There, they did a research project where they measured the speed of the water. "The river was really fun," said Harshita (8). "It was probably one of the best parts of the excursion."
In the evening, the teachers read Japanese bedtime stories to the fourth graders before going to bed.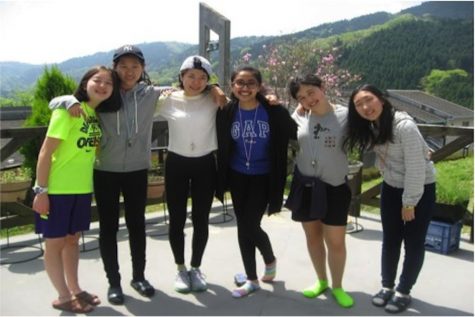 The next day, they went on a five- hour hike. The fourth graders found hiking tough because they were unfamiliar with it, however, their determination and perseverance kept them going until they reached the top. "This is good progress for us to see as teachers," said Ms. Hosoi. "So this was probably one of the most successful out of all the activities."
Finally, on the last day, the students had a picnic lunch and roasted marshmallows by the river.
The 8th graders returned home satisfied, but exhausted. While the eighth graders were happy to be home, they were sad that the trip was over. "I realised that the most important thing was to be there for them, and to be someone who could take care of the kids," said Sarah.