Tokyo thrift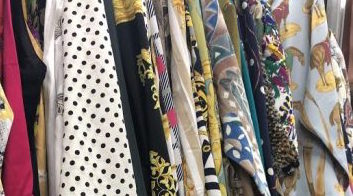 I began shopping at thrift stores a little over two years ago after I came across one called "Chicago" in Harajuku. I was amazed by the colorful array of clothing hung across the room, the fashionable employees and shoppers, and the retro knick-knacks lying here-and-there around the store. Unlike regular clothing stores, thrift stores sell secondhand clothes, shoes, and accessories, including branded items for much lower prices. As a high school student who loves clothes but has a low budget, a thrift store is the perfect place to shop.
What makes thrift stores any different from shopping at regular clothing stores?
Unique style – It is often embarrassing to show up at school, work, or a social event sharing the same outfit with another person. Personally, this has happened to me a couple of times. These instances happened while I was wearing clothes from H&M and Forever 21, stores that offer endless stock of the same item. If you shop at thrift stores, your wardrobe will eventually fill up with unique pieces that are authentic to you. This is because thrift shops, especially in Tokyo tend to add new items weekly, as well as not sell identical pieces of clothing.
Environmentally Friendly – A lot of energy and water is used in the manufacturing of clothing. According to a site called Green and Prosperous, "growing one kilogram of cotton requires 5,300 gallons of water, while wet processing and printing use 18 and 21.6 gallons, respectively, per pound of cotton." When you buy from thrift stores, you are essentially preventing energy and water loss as well as reducing your carbon footprint.
Better quality – Yes, thrift stores do sell "cheap" clothes, yet time and time again their quality outlives the quality of a shirt or a pair of jeans bought at fast-fashion retailers. The quality of thrift store clothes is better than those of fast-fashion stores because most of the items are acquired from brands that produce high quality products. Not to mention, thrift stores in Tokyo are also very selective with what they take from donations in order to sell them in their store.
Here are two of my favorite thrift shops located around Tokyo:
Kinji
This store sells everything from clothes to coats to shoes and hats! I guarantee you'll find at least two things you'd want to buy. I especially recommend the 80's section of the store.
Website: http://www.kinji.jp/
Where: 〒150-0001 Tokyo, Shibuya, Jingumae, 4 Chome−31−10 YMスクエア原宿B1F
Chicago
Like Kinji, Chicago has a vast selection of clothes. They specialize in sweatshirts and vintage dresses. What I really like about Chicago is that they have multiple locations around the Tokyo area (Jingumae, Omotesando, Takeshita, Harajuku, Shimokitazawa). I recommend buying their denim jackets, jeans, and windbreakers.
Website: http://www.chicago.co.jp/
Where: 〒150-0001 Tokyo, Shibuya, Jingumae, 6 Chome−31−21 オリンピアアネックスビルB1F