D's Mediterranean Kitchen: a culinary trip to the Mediterranean Sea
Everyone has the desire to taste different kinds of foods from all around the world. However, it is almost impossible to pursue this dream. Perhaps, rather than wasting substantial amounts of money and time, people nowadays often end up just getting mediocre dishes from chain restaurants. I, however, am a slightly more adventurous armchair traveler.
"D's Mediterranean Kitchen," located in a little alleyway in Omotesando, Tokyo, is the perfect restaurant to provide you the dream of experiencing diversity. They have a variety of cuisines from three different Mediterranean countries: Turkey, Italy, and Greece, and the time spent here makes you feel as if you are on vacation.
The medium-sized room with welcoming lighting is filled with the lively turquoise blue of the Mediterranean and charming illustrations adorning the walls. If you shift your attention towards the open kitchen, a dome-shaped pizza oven decorated with blue tiles immediately grabs your attention. The rhythmical sounds of the chefs cutting of vegetables make you curious about what kind of flavorful surprises await each bite.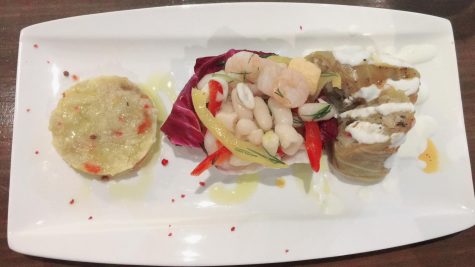 This journey of the multicultural experience starts off with mezze, the selection of small dishes served as a plate of appetizers. Greek salad created with organic vegetables refreshes you on a hot day, and the seafood salad brings you right back to your favorite Italian port while the creamy hummus blends deliciously with the homemade bread. You might worry that this mere starter plate will already fill you up, but each portion is small and just right for sharing, which allows you to save enough room for more dishes. The owner of the kitchen will personally serve you one of the most popular mains, köfte, which are Turkish-style meatballs sided with seasoned rice and grilled vegetables. As soon as you put the meat into your mouth, the rich taste of spices and olive oil provide a burst of culinary pleasure. This taste of Turkish home-cooking evokes feelings of joy in experiencing a whole new culture. Despite your full stomach, you cannot resist ordering dessert when the smell of melting butter fills your lungs. Knafeh, a traditional Turkish noodle-like pastry immediately makes you smile upon the first bite. The sweet syrup and the crunchy thin noodles complement each other perfectly as the half-melted cheese dangles from your fork.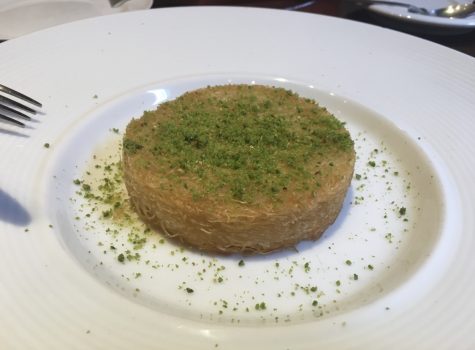 As a Turkish person myself, I have tasted real Mediterranean food from the country itself. Even so, the dishes at D's Mediterranean Kitchen created by authentic craftsmen, are some of the best I've ever had. The price might be a bit high for students, but it is totally worth paying every penny to enjoy a little Mediterranean vacation away from your stressful days in Tokyo.