Toki Seven Tea
the latest addition to Hiroo Shopping Street
In the recent tapioca boom in Japan, many boba stores, seem to have appeared out of nowhere. Many boast a wide array of flavors to attract a variety of customers, and thus tapioca has won over the hearts of many people. So it's no surprise that two tapioca stores have opened in Hiroo in 2019, and now, a third.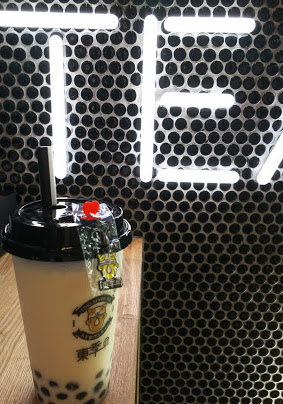 However, with their numerous customizations that can be made to order, and chewy, sweet tapioca, the tapioca shop Toki Seven Tea proved not to be simply just another tapioca place in Hiroo.
Small but eye-catching, the store has a yellow and black themed interior that is filled with the bright glow of their light-up sign. Drink choices range from different types of milk tea, like roasted green tea, or jasmine, to fruity teas such as peach oolong or mango oolong tea. Their standard milk tea was made with the ideal ratio — the milk balanced out the subtly bitter brew, and the added sugar along with the boba provided that extra hint of sweetness. If you're picky about your tapioca, you'll be satisfied by its delightful consistency, chewy and not too soft. As for service, the workers were welcoming and helpful in guiding me through customizing my order. All in all, it was an extremely positive experience — the energizing atmosphere of the shop matched my mood as I left it, excited to finish my drink. 
On the other hand, although exceptional in taste, Toki Seven Tea lacked the variety seen in their flavors when it came to the size of the drink. Both sizes provided, M and L, were extremely generous, and it would have been beneficial to have the choice of a smaller drink. In addition, there were only three seats available to customers.
Nevertheless, Toki Seven Tea is a hit, and worth a try if you're craving a quick sweet beverage!