Does mukbang have that 'it' factor?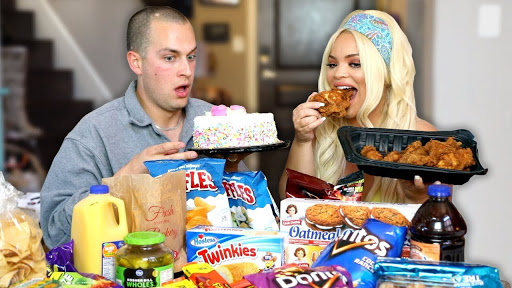 Mukbang has recently become a global phenomenon along with many other food trends like ASMR (autonomous sensory meridian response), cheat days, and extreme calorie challenges. Mukbang originates from South Korean live-streaming apps in 2010. It directly translates to "eating show" and has, in recent years, become widely popular all over the world. Mukbangers create videos in which they sit down with copious amounts of food, and communicate with their followers while eating. Some content creators prefer to film ASMR style which only includes eating noises and no speaking, while others prefer to tell stories about their lives or report on true crime and conspiracy theories. Despite its rapid growth in popularity, the mukbang community has received a lot of backlash, as some believe it encourages disordered eating habits and body dysmorphia. In spite of the millions that enjoy and love mukbang, many only see the dangers in this trend. 
Despite the backlash, the mukbang community continues to flourish according to YouTube's statistics. Mukbang video content on YouTube grew from 85 million views in October 2017 to 138 million views in April 2018. That's almost a 12% increase in just six months. This niche is so successful that big mukbang-ers on Youtube report earning over six figures through ads and sponsorships according to Business Insider.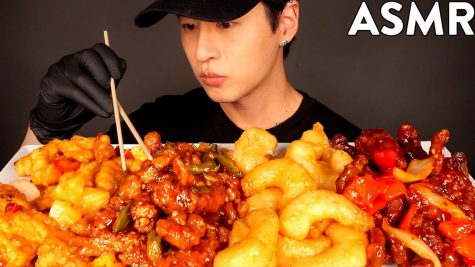 However, there is a price for success, as it puts the health of these influencers at risk due to the large quantity of usually unhealthy food they consume in one sitting. Mukbang-ers have also been under fire for promoting disordered eating habits, which some use in order to make sure they don't gain weight from eating large amounts of food. In fact, famous Youtube star, Trisha Paytas, has even admitted to starving herself for days just to be able to film mukbang content for her viewers. Other mukbang-ers such as Zach Choi have adopted restrictive methods such as eating once a day and exercising for countless hours. 
Due to this, dietitian and YouTuber Abbey Sharp has chastised the mukbang community for adding on to society's unrealistic body standards, as many of them seem to be able to eat copious amounts of food while remaining incredibly slim. She has expressed her disapproval for the trend in a recent video titled 'Why the MUKBANG Trend is Glorifying Eating Disorders' in which she explains in-depth how these videos are not only unhealthy for the viewer but are also very damaging to the YouTuber themselves, as their actions may be a sign of unaddressed eating disorders.  
If this is the case, why is mukbang so popular?
A journal published by Cambridge University Press explains that mukbang "gives viewers vicarious satisfaction, especially through the sensory stimulation provided by visual and audio representations of eating." The few Sacred Heart students that do watch mukbang, agree with this justification. For instance, Tanushri (10) says she watches mukbang as she believes it is "satisfying and calming." Moreover, Jueun (9) affirms that she receives "vicarious pleasure from watching mukbang." While others claim that watching mukbang helps them diet, as they are able to enjoy someone eating the food they wish to eat. 
As it turns out, mukbang isn't only satisfactory through vicarious pleasure, but it also has helped those who are lonely and want to enjoy their meals with someone else. Elno (12) says she watches mukbang when she's eating by herself to feel like she's not completely alone. This reason has become increasingly common with the rise of single-person households in recent years, as it gives them a feeling of togetherness. That can be very valuable to those who spend most of their time alone as it allows them to experience daily social interaction. This can be seen on popular live-streaming sites such as AfreecaTV and Twitch where viewers are able to make real-life comments and communicate with other viewers as well as the mukbang-er themselves.
The global mukbang craze has benefitted so many by giving them a sense of companionship and vicarious pleasure. The trend also promotes diversity as it allows people to share and experience different cultures through food.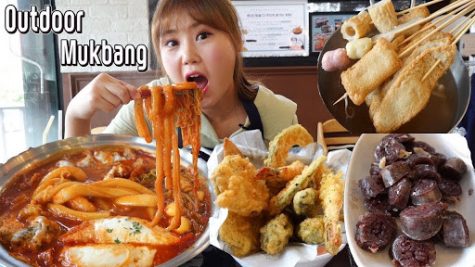 Yet the majority of Sacred Heart students don't seem to be buying into it.  Over 60% of those interviewed denied ever watching mukbang. With reasons ranging from feeling "disgusted" to simply not knowing what it is, this viral trend has yet to be adopted in the Sacred Heart community. This may be for the better, as mukbang also possesses a wide array of adverse effects such as encouraging disordered eating, as its stars prioritize the acquisition of wealth over their own health and wellbeing. 
As society becomes more and more dependent on the internet for information, entertainment, and companionship there is now something out there for everyone, and yet, maybe some things are better left unrecorded.