Myung (Class of 2020)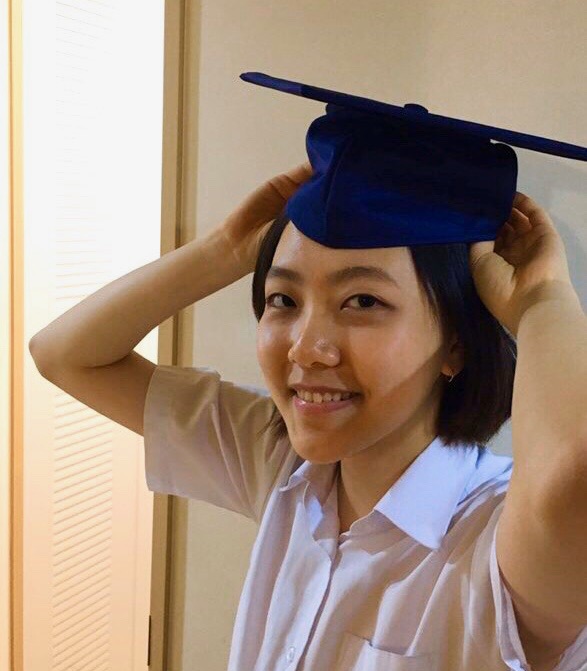 "Hello, I'm Myung. I joined Sacred Heart in 2006 (K4). I haven't decided where I'm going to college yet, but I'll be somewhere in Korea.
I remember the first time we walked inside the chapel. I think we were in first grade. It was our first time attending the start-of-the-school-year liturgy, so everyone was hyped up. Our homeroom teacher reminded us to be respectful and warned us not to touch the pews because they were delicate. 
She also told us that an angel lived near the balcony of the chapel. If we were good, then we would be able to see the angel through the balcony window.
When we entered the chapel, I was completely mesmerized. I thought everything was beautiful. I loved how the sunlight wafted through the windows, how our footsteps echoed, how there was a comforting fragrance in the air. In the end, though, what I loved most about the chapel was how everyone from the school came together to be in this one peaceful sanctuary. Under the dome-shaped roof, we all listened to the same speech and sang the same songs but carried different prayers and dreams. The chapel meant something different for each and every one of us, which is why it was — and still is — so beautiful. 
During this first liturgy, my friends and I kept glancing at the balcony to see if we could see an angel. In the end, I didn't, and I assumed nobody saw one. But after liturgy, a lot of people started claiming that they saw a halo and part of a wing near the balcony window, so I freaked out. Was I not "good"? Did I do something wrong? When people asked me if I saw the angel, I said I might've seen a feather because I didn't want to be left out. When I got home that day, though, I told my parents everything and confessed that I might not be a "good" kid, whatever that meant, because I didn't see the angel.
My parents smiled and told me that the angel probably left for a second when I turned around.
I can't remember the last time we were in the chapel — was it during the Christmas concert? Maybe it was. I guess we didn't know that the last time would be the last time.
I'm thankful for everyone I ever met in Sacred Heart. Honestly, I would never be the person I am today if it wasn't for Sacred Heart. People I grew up with, people I met only a few years ago, people I talked to and didn't talk to, people I shared moments with — I'm thankful for all these people, and I'm really going to miss everyone.
Here's my advice to you. Enjoy this moment. Go carpe diem and be the best version of yourselves. Everything is unexpected and nothing is permanent except for the memories that you create right now. We didn't expect to graduate during such an extraordinary time, but I think this taught us to enjoy every moment we have with each other." – Myung