Hana (Class of 2020)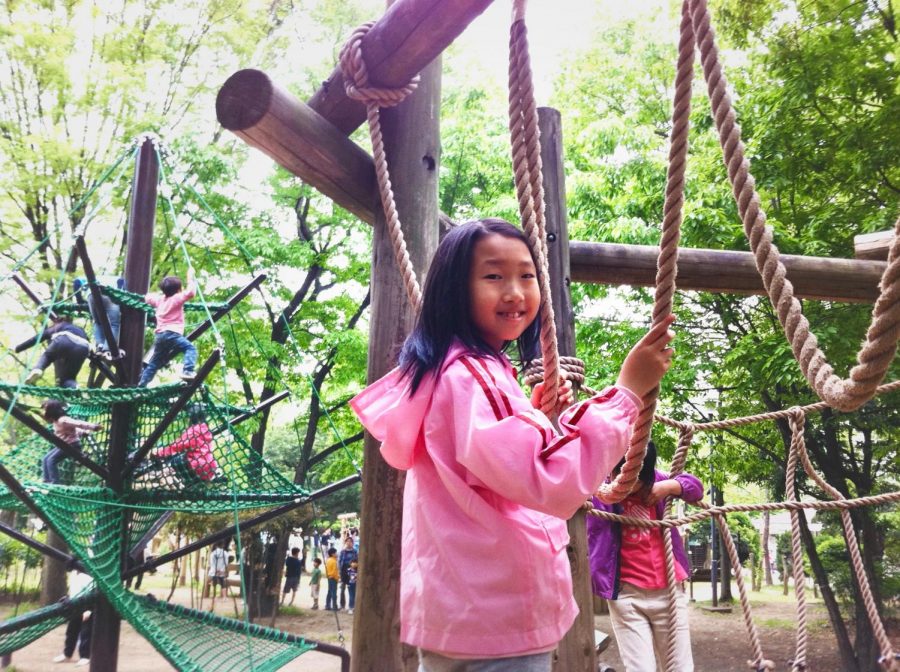 "Hello, I'm Hana. I joined Sacred Heart in 3rd grade (2010)! Time flies! I'm going to the US for college. I still have yet to hear from some schools, but I'll be somewhere along the East Coast.
I have so many memories that I don't think I'm able to write all of them down, but some of my favorite memories include: dancing in the afternoon in Mr. Piccolo's class, going to Summerland, options class in 7th and 8th grade, going to Singapore for History Bee and Bowl Asian Championships, and Family Festival in general.
I still remember the first time I came to ISSH, not as a student but as an 8-year-old girl looking for a new school. I was with my parents, and we were given a tour around the entire campus. There were a lot of things that I liked about the school, but one of the experiences I had during the tour really stuck out to me. I was really puzzled because, during the tour, we came in front of the painting of Mater Admirabilis (by the Math wing). There was a staircase behind the painting, and we went up the stairs to visit the Middle School building. Then, after walking around the school for a while, we somehow found ourselves back in front of Mater Admirabilis! In my old school, there wasn't a way to go around the school without taking the same route, so in my 8-year-old eyes, it seemed like the building was magical. I desperately wanted to know what was going on with the building, so, from that moment, I knew that I had to go to ISSH (which, I know, has got to be one of the worst ways to choose a school to attend).
Despite choosing ISSH for a rather ridiculous reason, I'm very glad that I decided to attend. I made countless memories (good ones, bad ones, and absolutely stupid ones) and met some of the best people I know. I'm always amazed at how kind everyone is at ISSH and how we're constantly looking out for each other. I'm very proud to call ISSH my community and my home.
To be honest, all of the excursions hold a special place in my heart, but if I were to choose one, I would have to go with the senior excursions. I think it had the perfect balance between discovering ourselves and strengthening our bond as a grade. 
I also have to mention the 8th-grade trip where several of us accompanied the 4th graders then for their first excursions. Ever since going on the 4th-grade excursions myself, I had always wanted to become a chaperone myself, so when I was able to do that, I was really happy. I remember all of the chaperones stayed up late, chatting in the dining hall.
The graduation ceremony will be virtual this year, but that doesn't mean that we didn't put a lot of effort into it! I'm really excited to see how everything turns out, from the videos that we edited to the speeches.
I am extremely thankful to all of my friends. Throughout my time at ISSH, I was constantly reminded of how important it is to not take the people around me for granted. It's also with these people that I made the best memories with, so I'm really glad and happy that I was able to meet my friends. I'm not usually one to show my gratitude and affection towards my friends often, but I would like to say a few words to my friends: I LOVE YOU GUYS SO MUCH! YOU'RE THE BEST!
I'm also very thankful to all of the teachers that I've been taught during my time at ISSH. It's definitely not an exaggeration to say that I have been inspired and motivated by my teachers many times. I'm also very sorry for all the ruckus that we caused — I'd like to believe that we were a fairly well-behaved grade overall, but there were times when we caused a bit of a commotion.
The message that I want to leave behind the most, is to make the best of every second you have. My motto is always: if there is an opportunity, take it before you regret it (which kind of explains why I was in so many clubs…). Also, make sure to take care of yourself, and be grateful for the people you have in your life!" – Hana