Reducing food waste to protect the Earth
Many of us have wasted food before, not realizing how big of an impact it can have on the planet we live on. However, food waste is a contributing factor to climate change and as it continues to become a bigger problem, we should all start to take action and do what we can as individuals.
According to the Ministry of Agriculture, Forestry and Fisheries (MAFF), every year, more than 25 million tons of food waste is produced in Japan and the average person wastes about 48kg of food. Producing food requires a lot of energy, so when we throw away food, we're essentially throwing away all the energy it took to make the food. Foods with high water content emit excessive amounts of carbon dioxide during incineration. When the food we throw away rots at a landfill, it produces methane, a greenhouse gas that is "84 times more potent than carbon dioxide" in the first 20 years after its release, according to the Environmental Defense Fund.
According to the Food and Agriculture Organization of the United Nations, greenhouse gas equivalent to 3.3 billion tons of CO₂ is produced each year due to food waste. 
So what can we do to reduce food waste? 
There are many small day-to-day actions that can help reduce food waste, such as eating everything on your plate and buying and ordering only what you can eat. The MAFF also recommends buying food with the nearest expiration date so that it will not remain unsold and preserving foods by freezing them.
In Japan, the MAFF is working towards halving the food waste of edible portions by 2030. The Food Loss Reduction Promotion Act was implemented last year to promote the reduction of food loss and waste to people in Japan. Although the public recognition of the food loss issue is 74.5% according to the Consumer Affairs Agency, food loss still remains an issue. This new law aims for each individual to not only be aware of the issue, but to actually make an effort to reduce food waste. The Consumer Affairs Agency has a page called "The Kitchen of the Consumer Affairs Agency" on Cookpad, a recipe site, to provide recipes that are food waste-free. At the moment, there are over 700 recipes showing how to use food that would otherwise end up in the trash, such as vegetable scraps and leftover food. The MAFF also encourages companies to make food that lasts longer. For example, containers of soy sauce have a double layer, which prevents it from going bad, allowing it to last longer as a result. 
Efforts to reduce food waste are being made in ISSH as well. Ms. Humphrey, a biology teacher at ISSH, organized the "Plant Growing Summer Project" last summer for students to grow plants from kitchen scraps. "The project was designed to raise awareness of the issue of food waste and at the same time occupy some time for students over the summer vacation because many people were stuck at home due to the COVID-19 pandemic. As a biology teacher I also wanted students to try growing some plants at home," she said. "We often throw away food into the trash that still has biological potential to become new food. Instead of throwing it away, we can try and regrow our own food and in doing so reduce those environmental impacts."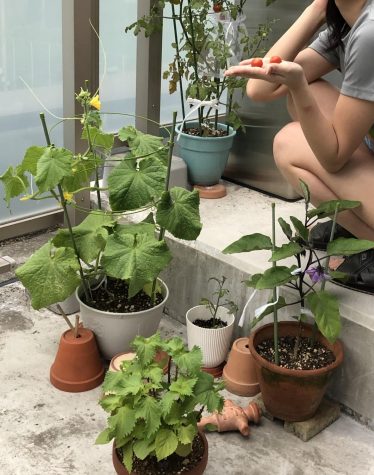 A participant of the project as well as a member of a student organization called Earth & Teens, Rina S. (11), decided to take part in the project because "it was something you could easily work on at home even while quarantining." She said, "it was a good opportunity for me to work on something tiny, but something that could make a great change in the world."
Another benefit of growing plants at home is that participants not only get to reduce waste by throwing away less but also by having to buy less. "The cucumber is still actually growing, so we can still harvest them and eat them in salads. I think the times we went to buy those [vegetables] decreased and everything is packed in plastic in Japan, so I think that it did reduce plastic waste," Rina S. (11) said. 
Ms. Humphrey suggests composting as another way to reduce food waste, making nutrient-rich soil from them. Mary C. (11) contributed to the project by composting. Composting is a method of aerobically decomposing organic matter into compost, a material that can be used as fertilizer for plants. It was her mother's idea to start composting in her apartment's veranda and she decided to help, seeing that it "was an opportunity to make [her] home more eco-friendly."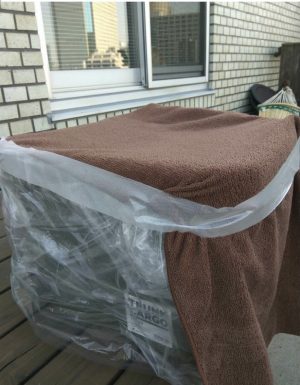 However, composting comes with its own challenges. Mary C. (11) states that the "most challenging part so far has been to maintain the moisture level." Living in an apartment, she has to be careful not to "produce any fetid smells or attract unwanted crowds of flies and worms that could potentially spread to [her] neighbors." Japan's rainy season can make it especially challenging to maintain a compost with the perfect amount of moisture. Mary C. (11) states that she has not produced any waste since she started composting in July, which goes to show that it is not impossible to reduce the amount of food waste to zero. "I highly encourage everyone to start a compost at their home!" she said.
Although efforts are being made to reduce food waste, the pandemic has made it difficult for Cezars Kitchen at ISSH to prevent food waste from being produced. Due to COVID-19, they are unable to have a buffet for students to pick their own food. This year, Cezars Kitchen provides Grab and Go lunches, which are pre-packed bento boxes. This has increased the amount of food waste produced since the students cannot decide how much of a certain food they want. A Cezars Kitchen staff member stated that at ISSH, at least 15kg of food waste is produced every day and most of the food wasted are vegetables. Cezars Kitchen encourages students to eat all the food and the vegetables that are provided in the Grab and Go lunch boxes to reduce waste. Despite this inconvenience, they are making an effort to reduce food waste by throwing offcuts of the vegetables into the compost bin.
While we can see negative impacts of COVID-19 on food waste at Cezars Kitchen, the new school rule to take our own trash home may also be reducing food waste. Many students are bringing lunches packed in reusable containers instead of disposable ones as students may be less inclined to bring food that will produce a lot of waste.
If we can reduce the amount of food waste to even half of what we used to produce, we would be able to save more than 20kg of food. Continue that for more years and eventually we would be saving hundreds of kilograms of food from going to waste. Individual efforts to reduce waste, such as growing plants from kitchen scrap and composting can have a big impact if more of us take part in it and if we continue making these efforts for a long time.