Netflix's movie 'The Prom': Did it do justice to the stage musical?
As a fan of musicals, I was hesitant when it was announced that "The Prom", a beloved Broadway show was to be adapted into a movie on Netflix directed by Ryan Murphy, famous for producing the TV show "Glee" and "American Horror Story". The all-star cast was itself eye-catching: Meryl Steep, James Corden, Nicole Kidman, Michael-Keegan Key, Kerry Washington, and Andrew Rannells. Adapting a stage musical as a movie is difficult, and more often than not, does not do the original musical justice. Knowing how important a show like "The Prom" is to its audience had me concerned with how true it could stay to the musical, especially when there were such big names cast in the movie. 
The original musical and the Netflix version alike follow four narcissistic Broadway actors:  Dee Dee Allen and Barry Glickman, who receive negative reviews on their opening night of their musical, "Eleanor!"; Angie Dickinson, who quit her job from being in the chorus of "Chicago"; and Trent Oliver, an unsuccessful Juilliard graduate bartending between acting jobs. To regain their fame, the four decide to partake in celebrity activism. When they come across an article about a high school in Indiana where the PTA canceled prom because a female student, Emma Nolan, wished to bring her girlfriend, as a date, the four actors pack their bags to go up against the PTA. 
The performances in "The Prom" felt over the top in the best way possible. They were all large-scale, theatrical, and had many dance numbers I could not get enough of. Particularly, the songs "You Happened", a promposal number, and "Love Thy Neighbor", a song sung by Trent to Emma's classmates, to teach them that "you can't cherry-pick the Bible, choosing which part you wanna to believe," were notable, catchy, and energetic, capturing the Broadway essence. 
However, when Emma and Alyssa's integral part to the song "You Happened" was cut out, I could not hide my disappointment. In the movie, they only have a few lines to sing together, unlike in the original Broadway production. The Netflix version ends the song too abruptly, which not only sounds strange but also draws focus away from the main couple. More attention is placed on the background couples, and in a musical about representation, it doesn't feel right for the heterosexual couples to have more screen time, especially in such a big song like this. More insight is given to the relationships of the background characters, making Emma and Alyssa's underdeveloped. Thankfully, in the soundtrack, the full uncut song is available, although it would have been great to see it on screen.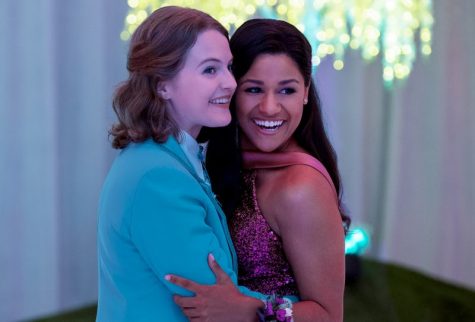 The actors were also remarkable, especially from breaking stars Jo Ellen Pellman and Arianna Debose, who played Emma and Alyssa respectively. They both brought a freshness to the film and portrayed their characters with such raw emotion that pulled at your heartstrings in every scene. And unsurprisingly, Meryl Streep who played Dee Dee, filled the role spectacularly and captured the character exactly like in the actual musical, never failing to make me laugh. Not to mention, Streep's voice is incredible. There are already talks about Meryl Streep getting nominated for an Oscar for the role, which I will not argue against. 
That being said, there are a few criticisms of this cast list. Personally, I would have liked to see Broadway actors take on the roles. Although there were familiar Broadway faces including Arianna Debose and Andrew Rannells, I didn't feel they were enough. This was a chance for Broadway actors to shine on screen, but they were overshadowed. It was also disappointing that a Netflix film that had a big budget and a large fanbase from the musical felt the need to cast big names when it wouldn't have been crucial to the movie's success. Theatre actors are rarely recognized for their work, and this movie could have been a great opportunity to do so. 
There has also been disapproval from the LGBTQ+ community who felt that James Corden's performance as Barry was stereotypical and insensitive. James Corden, who identifies as straight, played an openly gay character in the film. While it is not my place to say if this was an accurate representation of the character or if it was offensive, I do understand their critique. 
Despite my reservations, "The Prom" was an acceptable movie. From a musical perspective, there are a few flaws, particularly from the casting and song choices. As a movie in itself, I found myself enjoying it more than I thought I would, and had a lot of fun watching it. The film ends with a beautiful message of love, acceptance, and being yourself, which makes your heart swell with pride and joy. It gives the audience hope for a world where "no one cares who your unruly heart loves."