"Wednesday's Child Is Full of Woe"… Why?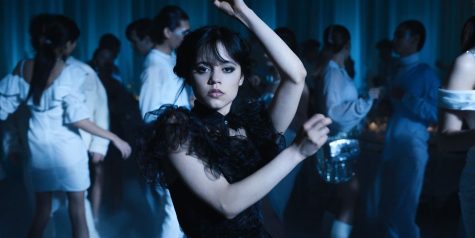 With her dark and mysterious personality as well as eerie character design, Wednesday Addams has made another strong comeback with the newest Netflix series, "Wednesday." Wednesday is the daughter of the Addams Family, originally created by Charles Addams in 1938. Since then, multiple movies and TV shows have been released based on this lovable family; Tim Burton, one of the directors of "Wednesday," says in a behind-the-scenes interview on Tudum that he "particularly loves Wednesday because she shares [his] worldview on things. And that was fun to explore." With the recent release of her own show, Wednesday successfully attracted the love of millions of viewers—as announced by Netflix in December of 2022, "Wednesday" has broken the record for "an English-language TV series for most hours viewed in one week" with a shocking 341.2 million hours. 
To a greater degree, "Wednesday" shines among other shows in the same genre of Tim Burton's success in building the protagonist's character. Wednesday herself is known for her creepy, kooky, mysterious, and ooky-ness. In Forbes' words, "Wednesday strikes exactly the right balance of being prickly and overtly hostile and a-emotional while still being a compelling lead with just enough humanity to make her someone you're still able to root for." Above that, Tim Burton and Jenna Ortega, the actress who played the role of Wednesday, are also undeniably a part of the reason behind the show's success. 
Behind the perfect portrayal of Wednesday is Burton's careful design of the character and Ortega's hard work on set. In an interview with Teen Vogue about how she "became Wednesday Addams," Jenna explains that she had asked the hairdresser to cut her real hair after failing to obtain the perfect look with the fake hair. Other than this, the actress also reshot any scene in which she blinked, as doing so would perfect Wednesday's cold and distinct character. In the cold Romanian winter, Jenna would even have to restart a take when she teared up from keeping her eyes open for too long. These subtle additions, like her unsettling monotonous stare, have contributed to the creation of Wednesday's odd mannerisms. Perhaps it was exactly for this persistence and perfectionism that "Wednesday" was able to achieve this level of success. 
The storyline of "Wednesday" is one that fits into the conventional hero's journey pattern. At the beginning of the story, Wednesday is forced to transfer to Evermore Academy — a school for "outcasts" like werewolves, vampires, and sirens. Over the course of Wednesday's first semester there, she is involved in a murder case caused by a mysterious monster. Through chasing after the evidence, Wednesday slowly discovers her family's secret history, falls in love, and eventually forms social bonds for the first time. The storyline isn't clichéd, but it is a little predictable. 
Regardless, the adequate plot is largely overlooked because of the focus on the design of the characters. As short clips from the show (e.g. Wednesday's strange but addictive dance) gained attention on TikTok, more audiences consisting mainly of teenagers were attracted to watch the show. Moreover, having multiple storylines allows Wednesday to attract more audiences; whether you like mystery or romance, comedy or fantasy, you can find traces of your favorite genre in "Wednesday." In particular, the setting of Evermore Academy —a school full of "outcasts" — also provides some audiences with a sense of comfort and relatability. Evermore Academy shows that no matter if you are black, white, blue, a vampire, a werewolf, or anything in between, you will eventually find your community. Perhaps through watching this TV show, they will learn that their uniqueness should be celebrated.
At the end of Season 1, Wednesday's journey seems to have come to an end as she successfully solves the murder mystery—until she receives text messages and photos from an anonymous stalker.  The second season of "Wednesday" has just been announced by Netflix on January 6th. Who is Wednesday's stalker? What challenge will Wednesday face this time? Will the upcoming season(s) maintain the high quality of production? Stay tuned.