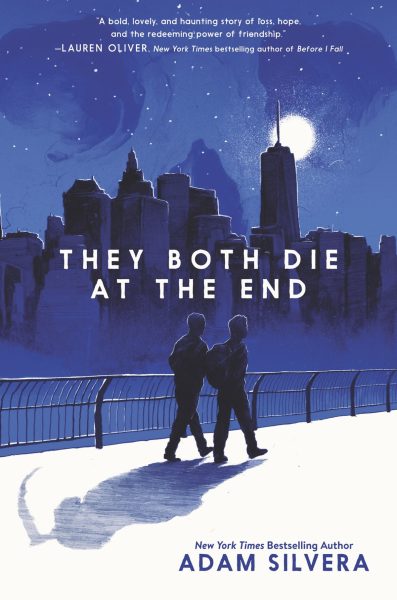 A seemingly typical young adult fiction at first, "They Both Die at the End" by Adam Silvera is a thought-provoking novel, questioning readers, "What would you do if you only had one day left to live?" This book is an abysmal black hole: upon proximity, it sucks you into its murky depths. The author uses its clever title to succinctly spoil the ending, effectively piquing readers' interest by giving them an idea of what the story is about: death. 
Death-Cast, a death notice organization, calls teenagers Mateo and Rufus to tell them they will die within the next 24 hours. Not wanting to spend their final hours alone, they connect through a social media app and plan to meet up. Their ultimate goal is to live the last day of their life to the fullest. Although they come from entirely different backgrounds and have opposite personalities, they eventually open up to each other and find comfort in each other's company. We watch their relationship blossom as they encounter life-threatening challenges on their last adventure and grow from becoming strangers to partners. 
There are many heart-wrenching moments sprinkled throughout the story. One of the most emotional scenes, found in the first few chapters of the story, describes Mateo's and Rufus's reactions to their inevitable deaths. After receiving the phone call, Mateo is in denial: he doesn't even want to leave his house. He spends his night moping around, feeling paranoid over everything that could kill him. He eventually works up the courage to go out because he wants to visit his father, who is in a coma, one last time. On the contrary, Rufus accepts his death, even trying to make a joke out of it. He prefers that he had died before he got into trouble with the police and was on the run.  
This book does an excellent job of exploring the value of life in this modern but slightly twisted society. It is an engaging reading experience that leaves a lingering bittersweet aftertaste. The story's theme revolves around the idea of mortality, which could be an uncomfortable topic. This makes it even more of a significant read for an adolescent audience because it makes young readers reflect on how they decide to spend their precious time through the lens of the two teenage characters. By the end of this story, readers will realize how important it is to live in and appreciate the present and to put down technology to spend time more intentionally rather than to waste it on little distractions. If you need a good cry and an existential crisis, this one is for you.