December Hits and Misses
"Maybe Christmas, doesn't come from a store. Maybe Christmas . . . perhaps . . means a little bit more." It will with our latest Hits and Misses!
HITS:
The Return of the Gingerbread Latte (Megu)
With the Gingerbread Latte back on the menu, it's time to celebrate the upcoming festivities! The Gingerbread Latte is my favourite as it is the only "festive" drink that tastes like Christmas. The other drinks that Starbucks came out with this season are either chocolate-based or fruit-focused, which isn't any different from other seasonal drinks. Decorated with whipped cream, the Gingerbread Latte is a fusion of Christmas-friendly spices such as ground nutmeg, cinnamon, and ginger. Starbucks should make the Gingerbread Latte a tradition on their holiday menu, as this is the only drink from Starbucks that truly tastes like Christmas.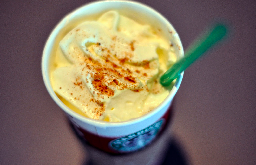 The Man from U.N.C.L.E. (Haruka)
The famous duo, Napoleon Solo (Henry Cavill) and Illya Kuryakin (Armie Hammer), who dominated 1960s American TV shows, are back. Set around the 1960s during the peak of Cold War, this movie centralises around two spies, CIA agent Solo and KGB agent Kuryakin, who are forced to work together to demolish an international criminal organization. The film is not the normal action-packed movie that only guys see. In fact, it has a lot of comedy sure to make the audience laugh. The film also stars Alicia Vikander ("Ex Machina"), Elizabeth Debicki ("The Great Gatsby"), and Hugh Grant ("Love Actually"). Directed by Guy Ritchie ("Sherlock Holmes" series), we recommend this film to those who love the nostalgic 60s and comedy-packed action movies.
H-IIA Launched on November 24th (Sarah)
The sky was deep blue and the wind blew gently — the warm day signaled something other than just a pleasant day. On 24 November at 3:50 p.m., a vehicle named H-IIA lifted off successfully from Tanegashima Space Center. For the Japan Aeronautical Exploration Agency, this occasion marked the first time launching a commercial satellite to outer space. This event will mark another step for Japan's venture into space, as the country was behind other countries, such as the United States and Russia, in launching commercial satellites.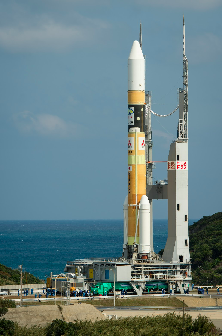 Sia's New Song "Alive" (Reshma)
After her critically acclaimed song "Titanium," it was refreshing to hear again the voice of brilliant Australian singer and songwriter, Sia. Her upcoming album,"This is Acting," is a compilation of songs originally written for other singers, such as Christina Aguilera, Beyonce, Adele, and Britney Spears. She recently released one of her songs, "Alive," from her album. Her vocal variations in this song dramatically shift from high frequencies to low frequencies, resembling the electrocardiography of the life support machines tugging between life and death. Her electrifying, enrapturing vocals stand out from the beat of the background music. "Alive" represents the voice of those afraid to reveal their true self. Sia continually emphasizes through the lyrics of "I'm still breathing" that she, like many others, will not rest until she is free from societal labels and stereotypes.
MISSES:
No Snow? (Sarah)
It is now December, nearing the "bleak midwinter" when Frosty the Snowman was born. However, something is missing from all the northern resorts where people flock during winter season. Something white, fluffy, cold, and necessary for skiing and snowboarding. This year, the fall temperatures around the Pacific Ocean are comparatively warm, and this trend is expected to continue into winter. This weather pattern is caused by El Nino Southern Oscillation (ENSO), (ENSO), a natural phenomenon where the distribution of warm seawater increases near the equator. We may like warmer weather, but the lack of snow is causing problems for ski resorts opening in December. Whether this weather (pun intended) will take away a white Christmas from ski resorts, we have yet to find out.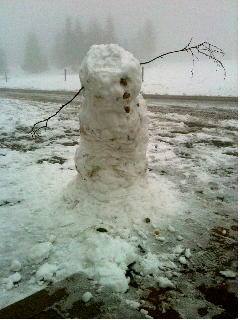 Chapped Lips Season (Darya)  
Although temperatures in Tokyo don't get as low as -20℃ during the winter season, the dry air is unbearable. With dryness in the air, comes dryness of the skin, and of course, the dryness of lips. In December, you find that you buy at least 10 different chapsticks for your lips, and another 10 more to compensate for the ones that "mysteriously disappear." Even with 20 layers of your favorite chapstick coated all over your lips, the second you step outside your home, your lips are once again cracked, peeled, and bleeding. There is no way to win this battle with nature. If you forget your lip balm at home, consider yourself defeated. The urge to lick your chapped lips is uncontrollable, but once you do, you discover that licking your lips just made things worse. There are no solutions but to keep a stash of chapsticks with you 24/7.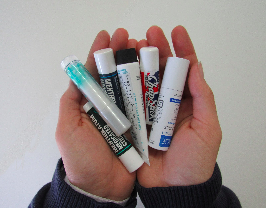 Max Brenner's Chocolate Chunk Cookie (Mizuki)
You're standing by the register, waiting to purchase a delectable chocolate treat, when the glass jar of cookies catches your eye. You've already had the iconic chocolate pizza a million times and it's time for a change: "One chocolate chunk cookie, please." Longing for the sweet taste of milk chocolate, you take a large bite, only to have the bitter taste of dark chocolate greet you. Speechless, you take another smaller bite and realize that this cookie is an awful fusion of pecan nuts, milk chocolate chips, and dark chocolate chips. To add to all this unpleasantness, the cookie is in no way chewy; the texture is similar to that of a hard plank of wood, leaving you with a toothache. So, next time you pay Max Brenner a visit, save yourself and steer clear of the chocolate chunk cookie.