Juniors take on a crucial year in an uncertain time
Junior year is often said to be the most academically challenging year of the four years spent in high school.
It is the year students ramp up their workload with AP courses, take their standardized tests, join extracurricular activities, and work hard to achieve the best grades they can. It has been drilled into students that this is the year colleges will pay the most attention to — what we do determining where we continue our second phase of education.
What effect has the pandemic had on this crucial year? With so much being uncertain, the Class of 2021 can only anticipate what the next few months will look like. 
With the closure of school pausing all extracurriculars, juniors were devastated to find their musical concerts and spring sports canceled. In late February, there were many tears in the junior year common room as students began getting notices that the activities they had dedicated months of time and effort to were canceled. Juniors who had looked to create a cumulative extracurricular record have been forced to accept that current circumstances will not allow this. 
In a survey where we asked how the Sacred Heart juniors felt about missing their extracurricular activities and events, Cristina K. (11) responded to this by expressing great disappointment, explaining how "it would have been our last events before being seniors. We were all looking forward to having two more choral festivals, two more family festivals, two more of everything. However, unfortunately, we do not know if we will have any of those events anymore, and it feels like our high school memories we were expecting to make were stripped away from us."
Momoka I. (11), who missed various musical events, reacted with shock when hearing about the sudden cancellations. On a more positive note, she is glad that this "gives us more time at home with our families, and I have been able to relax more than usual because the extracurriculars keep me busy all the time."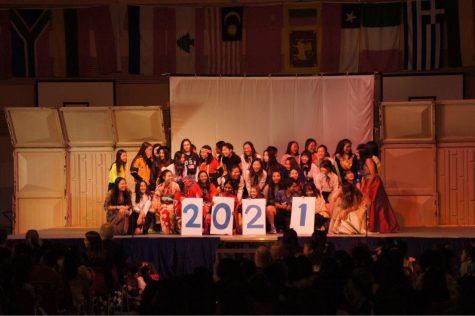 Changes in the AP exam schedule and the test-taking system has had a large impact on juniors. Because of the pandemic, these exams were held at home instead of school, and the exams were shortened from their usual two to three hours, to only 45 minutes. What affected ISSH juniors the most, however, was the College Board's decision to conduct these exams at the same time, internationally. With most of the AP exam test takers being American, test-takers in Japan were forced to take these exams at 1 a.m., 3 a.m., and 5 a.m.
In the survey, Cristina K. (11) and Molly W. (11) expressed different opinions on how these times negatively impacted their scores. Cristina K. (11) explained that because she tried sleeping earlier to get some rest, the exams she has taken have not affected her. On the other hand, she also explains how "there were some nights I had trouble sleeping due to my anxiety and just not feeling well overall," wondering if she "could have possibly had an easier time completing her exam if getting more time to rest." Molly W. (11) believes that the times have absolutely affected her score, explaining that "having to change my sleep schedule was exhausting and affected me for many days. It is not easy to read and analyze a document in the middle of the night, or to do complex calculus problems."
Ako T. (11), Momoka I. (11), and Miran K. (11) shared concerns over their health. Miran K. (11) expressed how since all her exams were back to back, "I feel like my brain wasn't functioning that well, because I interpreted the words so slowly." Ako T. (11) says that "I did feel more stressed and unhealthy considering that my sleep schedule was not consistent." Momoka I. (11.) explained that "having an abnormal sleep schedule while having classes at normal times during the day definitely affected my ability to concentrate and study for the exams prior to the actual exam days, and during the exam as well." Although, she does mention that "because this year's exams were shorter and included less content, it may have also affected my score positively." From these responses, it is evident that in one way or another, the juniors have felt some sort of unrest with the exam times they were given.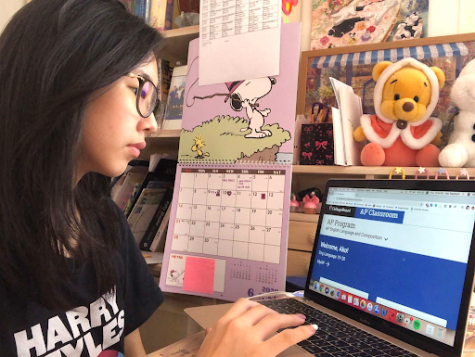 The rather unpredictable college application process has grown even murkier. In junior year, students begin narrowing down their college search and it is this time that many begin to go on college tours over the summer to find a place of the best fit. With most of these tours being conducted through virtual facilities, juniors (and seniors alike) will need to work around this. Cristina K. (11) shares this fear, being "scared about not being able to visit colleges, and not having a clear idea of where I really want to apply."
Miran K. (11) provided different insight to this situation being worried that "if SATs are not required, I feel like the university will only judge us by GPA, and because GPA systems differ depending on the school, I am concerned over how the university will standardize the applicants." Momoka I. (11) has not been able to take her SATs yet, and is feeling uneasy that "without an official score it is hard to narrow down colleges which would be my "safety" "target" and "dream" schools" and that "the amount of uncertainty that clouds the whole college application process makes me very nervous." Additionally, she also feels that "this stay-at-home period may have a negative effect on our letters of recommendations because we are barely spending time with teachers, and it is important for the teachers to know us well for the letters we ask for." 
Amidst unprecedented times, however, juniors must realize and understand that this is something that is affecting juniors worldwide. While it may feel as though we have no idea how this might affect our college application process, we must remember that all juniors are in the same boat and keep an open perspective. 
As Sacred Heart's college counselor Ms. Fisher wisely said, "Don't overcomplicate by thinking about how you may be advantaged or disadvantaged in your college process. Just focus on what you are doing right now, doing your best in your classes, and creating space in your life for balance (self-care, social interaction, exercise, sleep, eating healthy, doing things you love, laughing, and asking for help when you need it). If you do these things, everything else will fall into place the way it's supposed to."