Seeking jobs and internships as an international student
There are many obvious obstacles non-native speakers can face living in foreign countries from going to a hospital to getting jobs. One of the most significant ones for us as students is seeking extracurricular activities while living in foreign countries. Living in Tokyo, we are very privileged to have access to many international resources. In addition to the educational and extracurricular activities we are offered at school, many activities and clubs outside run in English, including sports clubs at the Tokyo American Club, and organizations like TedxTokyo and Second Harvest. However, there are still barriers that English-speaking students face living in Japan. 
One large limitation for students without Japanese citizenship is getting a work permit. This may not feel like a significant barrier for many high school students who are too busy to have a daily part-time job, but for students looking for work experience over summer, or especially for university students looking for long-term jobs, seeking public part-time jobs comes with challenges. For international school students in Japan, it is most common for them to tutor other students or babysit. Because English tutoring schools are limited in Japan, the demand for student tutors is high, and it is not difficult to find a job within the school, or even at outside beginner English classes and summer schools like the ASIJ Summer Day Camp. 
But what if you wanted to gain work experiences or internships outside of the English education category?
When it comes to seeking jobs or internships outside of the "international school" bubble, the barriers are much higher. In previous years, Ms. Fisher, a previous guidance counselor at Sacred Heart, has compiled lists of potential summer internships and programs we can engage in. However, even in the 2021 Summer Ideas, a majority of the activities are overseas programs in American universities, and the internships listed, like SKY Labo, a design internship and workshop intended to educate girls in STEAM, requires its participants to be fluent in both English and Japanese. 
This is the case for many foreigners in Japan. There are work and internship opportunities that allow them to utilize their English language skills, but most jobs also ask for at least some basic skills in Japanese. Whether it is a job at a restaurant or an internship with a company, they will need to interact with Japanese customers and colleagues, and using Japanese becomes inevitable. 
Besides gaining work experiences in Japan, another significant barrier for English-speaking students in Japan is seeking academic extracurricular activities. This is especially true for those who want to pursue scientific research. In recent years, it has become common for high school students to seek research assistant positions in summer programs, alongside university graduate students and professors. Although overseas summer research programs are available, they are short-term opportunities, and for those who are interested in more long-term, and independent research, living in Japan becomes a challenge. 
However, with that being said, many students have found ways to work around these barriers to be involved in projects and activities they are passionate about. 
Chihiro H., a Sacred Heart alumni from the class of 2021, sought a research opportunity at University of Tsukuba. Besides the fact that there are very limited English science courses offered at Japanese universities, unlike in the United States, it is not common in Japan for high school students to have research positions at universities. In order to find a research position in the area she was interested in, Chihiro cold-emailed professors she searched up online.
 "When I first sent out emails, I received a couple of invites either to go to their labs or have Zoom calls."  
Cold-emailing did not always work and many labs she emailed did not get back to her, but she was lucky enough to have a professor fromUniversity of Tsukuba provide her with the opportunity to work with a research group. 
Rina S., current senior, also gained a research opportunity in a similar way. With COVID-19 limiting more opportunities on top of the language barrier, she initially had trouble finding lab internships online. But when she came across a scientific article on cytokines that she was intrigued by, she directly contacted the professor to ask if she could engage in his research, and this was what led her to intern at a molecular pathology lab at Tokyo University of Science, helping with their research on cytokines to create pro-mutation antigens for influenza vaccines.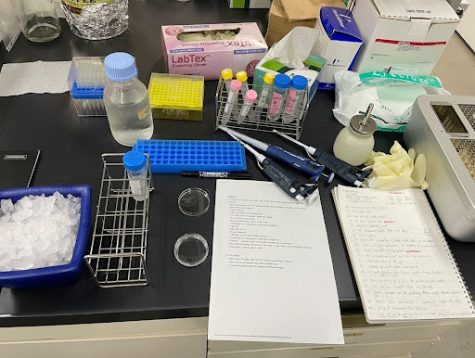 Besides research internships, several current high school students including Sarakshi S. and Khwaish J. have engaged in company internships. They worked at Mamoru, a company developing a sustainable living app that connects people with sustainable shops and brands. They sought this opportunity after hearing about it at one of the school assembly announcements last year. Connection with the school alumni allowed them to seek an opportunity they were passionate about. 
Clearly, all of these extra barriers put upon English-speaking students in Japan make some of the extracurricular activities and work opportunities less accessible. However, by taking advantage of their resources and connections, many students have been able to be more flexible and resourceful in seeking meaningful opportunities.