China's lockdown leads to disruption of non-Covid healthcare system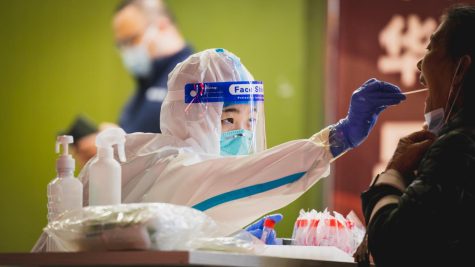 "Going downstairs to take an antigen test every evening has become part of my daily routine," Xiao Yu, a local resident in Shanghai who has recently returned from abroad, said in a video-call interview. 
About three years ago, on December 1, 2019, news spread across the world about the rapid widespread of Covid-19 across China, especially in Wuhan. However, with the aim to achieve a '0-Covid policy' followed by the strict method of lockdown, China has been able to keep the daily number of new diagnoses under 5,700 for over two years, based on worldometers.info's data on Covid cases. 
Since China's lockdown was able to suppress the number of new cases each day from 14,000 to 5,000, and based on wikipedia's Covid-19 update data from Our World in Data, China's death rate is three deaths per million people (as of November 12, 2022). This is the seventh lowest when compared with 291 other countries, and therefore, the strict lockdown seemed to be a complete success. However, the overly harsh restrictions resulted in a bigger impact on the citizens' lives when the government turned its full attention to lowering the number of Covid-19 deaths by giving more medical treatments for pandemic patients instead of other patients. 
The New York Times reported that the 0-Covid policy cut off people's accessibility to essentials such as food and medical care, a "trade-off" that most see as "increasingly unjustifiable as the danger from the virus itself ebbs." 
Nikkei Asia's article "Inside Shanghai's COVID lockdown nightmare" revealed a huge disadvantage brought by the lockdown: lack of access to hospitals. Throughout the lockdown, the healthcare priority was given to pandemic patients and the Nikkei Asia journalists reported that during Shanghai's lockdown, approximately 200 individuals have died "not due to Covid" but due to a "lack of access to hospitals." 
A BMJ Global Health Journal's research report, "Reduction in healthcare services during the COVID-19 pandemic in China", further suggests that the strict restrictions during the lockdown resulted in inconveniences in medical care which led to irreversible consequences. 
In the lockdown, all transport in and out of the city was closed, "with no exceptions even for personal and medical emergencies," stated The Guardian's journalists. All mass gatherings and public events were shut down, including all schools, malls, and restaurants. All public transportation was also suspended from roads, leaving the roads empty. The restrictions in traveling and transportation, as a result, were definitely significant factors that led to a disadvantage in medical accessibility. 
BMJ researchers collected and analyzed data on the change in health expenditure before and after Covid. Based on their research, the percentage change of healthcare service utilization declined by 40 to 60 percent after Covid and the sharpest drop in medical utilization was when the pandemic was at its peak, a time when most cities were under strict lockdown. Drawing attention to reports from several patients who experienced delays in urgent treatments and referring to statistical analysis of medical usage, BMJ journalists problematized the strict lockdown due to its negative effect on medical diagnosis and usage. They further suggest the need to "minimize the disruption" of healthcare services for non-Covid patients and reiterated that "strategies to prevent the spread of a pandemic such as lockdown restrictions need to make allowances for healthcare service utilization."
Since all public transportation, such as buses and trains, are restricted, the ways for citizens to get from places is either by walking or by private transportation methods by notifying the police. WSJ's journalist, Chao Deng, posted a video of the lifestyle in Chinese cities under strict lockdown. In the video, she stated that she encountered two siblings who had to push their mother, who recently received bowel surgery, in a wheelchair for half an hour to get to the hospital due to the decline in public transportation. 
"The government provided no support for transportation during the lockdown," Xiao Yu said. She explained that in cases of emergency, contacting the police for a private ride was the only source of transportation. 
Xiao Yu had to care for her parents' health while doing business online. "My father is diagnosed with cancer and has to get medications from the hospital every month," she explained. "Before, there weren't any problems; however, after the lockdown, all public transportation was restricted. Every month, I had to call the police to organize private transportation to the hospital. It was the only source of transportation possible." 
Furthermore, Reuters interviewed Kanyijie, a specialist in Chinese medical industry information service, who said that in order to cooperate with the city's epidemic prevention, hospitals had to suspend some treatments and diagnostic activities. 
When WSJ's journalist, Chao Deng, revisited the siblings, she was told that the doctors were too busy with the new Covid-19 patients to treat them. The New York Times journalists also reported that in Lanzhou, a 3-year-old boy, Tuo Wenxuan, suffered from carbon monoxide poisoning and died when his treatment was delayed because the area he lived in was considered "high risk" for the virus. 
The data on healthcare utilization and real-life concerns during the lockdowns indicate a critical need to improve healthcare accessibility for non-Covid patients in China. Xiao Yu's experiences under the lockdown reiterated the need to provide better healthcare for non-Covid patients in lockdowns. 
"My greatest wish right now is for everyone's life to return to pre-Covid times. I miss the times when we gathered together with our friends and families and have fun together without having to worry about pandemics," Xiao Yu stated.