What fuels the Japanese high school baseball dream?
 Baseball is worshiped among Japanese high school players who dedicate their lives to the sport, but in hopes of what?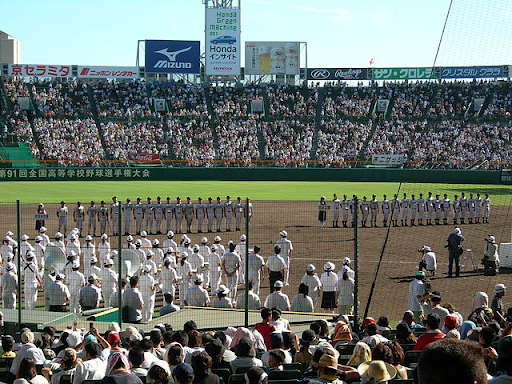 Around the world high school baseball stands are filled with friends and parents of the athletes. However, Japanese high school baseball is completely unlike any other country. Over 6 million viewers tune in to the most renowned Japanese high school baseball tournament, Koshien. 
During the Meiji era, Japan was very open to Western ideas, and baseball was one of the many things that The United States introduced. The sport gathered people together, which helped Japan reform and recover as a country again after the second World War. From the early 1950's the sport spread throughout Japan, and now, baseball is Japan's most popular participatory and spectator sport, according to Baseball in Japan. According to a survey reported by Alexandru Arba, the number of fans of Nippon Professional Baseball was approximately 21 million. 
The popularity of the baseball program is partly due to the fact that it is not just treated as a sports program, but as something that develops skills valued in Japanese work culture. The strict discipline that helps raise young men with probity and fortitude is required in Japanese society. On Culture Trip, Christine Bagarino wrote "the biggest draw of baseball was the discipline, hard work, and team effort that characterise the game and which greatly appealed to Japanese work ethic."  
Baseball training in Japanese high schools can be best described as militaristic. Their morning practices begin by singing their school song, and training vigorously until classes start, and back again after school until the sun goes down. The training and conditioning strengthens them physically, but also mentally. Players also have to be cautious of what they eat, and are required to eat nutritious home-cooked meals. The athletes need to train multiple times a week, while keeping up with their school work. Even their social lives are monitored and restricted by coaches, like the athletes' love life. The coaches control their relationship status since they want them to focus only on baseball. These programs are highly valued because of the skills that athletes are able to develop, including skills important for those who don't wish to become professional athletes.

However, a large part of baseball's popularity is due to the dream of playing in the iconic Japanese National High School Baseball Championship, known as the Koshien tournament. Athletes train and work hard all year to be able to step foot in the stadium they describe as a "holy ground." It is where many of the professional baseball players who have gone on to play major league baseball have played. Many of them started to gain attention after playing at the national championship. It is broadcasted live on many stations around Japan for millions of fans to watch, as well as the team's fans that come and watch the game live. Each prefecture enters the team that won the regional tournament to play for the Summer Koshien. It's a very competitive environment, since every skilled team from 47 different prefectures compete against each other in the Koshien Stadium in Nishinomiya city, Hyūga prefecture. Athletes have three chances in the three years in their high school years to be able to qualify in the National High School Baseball Koshien Tournament. Only 49 schools out of all that compete in the regional tournaments are qualified to attend the Koshien. 
All of the teams and athletes are so determined to win the tournament because it catches the eye of scouts from Japan and the USA watching the games and looking for new faces in baseball. All the high school players want the chance to be scouted; however, only the best of the best will catch their attention. That makes it very intense for the players to represent themselves as athletes. Many high school baseball players dream of playing professionally one day in Japan or maybe even in Major League Baseball in America, following in the footsteps of Shohei Ohtani, hoping to achieve the same recognition and fame.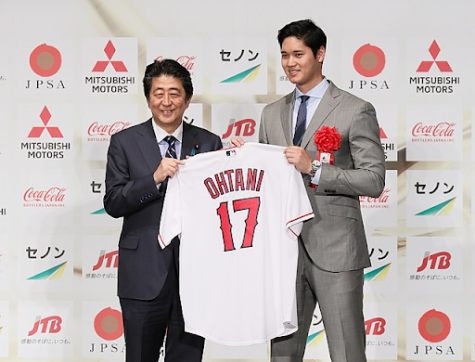 High school baseball is the origin of all professional baseball players. This is true for the most prominent Japanese baseball player, Shohei Ohtani (大谷翔平), a two way player that made history in Major League Baseball. He was introduced to baseball at a  young age and was known as "yakyu shonen"- a kid who lives, eats, and breathes baseball. As he got older, he joined the high school baseball team of Hanamaki High School. He trained very diligently during his high school years to achieve every player's dreams, to play in the National High School Baseball Koshien Tournament. Then Shohei's dream came true when his team qualified for the 2011 Koshien in his second year, but sadly lost against Teikyo High School. Then in the upcoming year 2012, his team competed in the regional tournament, and his team won 9-1 to Ichinoseki Gakuin High School that cleared the pathway for them to play in the spring Koshien. Their school caught people's attention due to Shohei Ohtani's excellent performance that drew the world's eyes to him. As an 18 year old pitcher, Shohei threw a 160 kilometer-per-hour fastball that stunned everyone. From there he built his own name in the baseball industry and joined the Hokkaido Nippon-Ham Fighters of Nippon Professional Baseball. His talent was beyond comparison to the others, and a few years later he was posted to Major League Baseball and signed with the Angels. Since 2018 he has been with the Angels, and has stood out ever since. Shohei's 2021 season was accepted as "historically significant" and a "major impact on sport" by the MLB Commissioner. Shohei Ohtani has made a big impact in the baseball world that no one has ever done, and it all started from his high school baseball journey. 
We see the amount of dedication, discipline, and hard work that goes into the high school baseball dream. All of the time and effort put into the sport is in hope of fulfilling their big dream as Shohei Ohtani did. The pressure that these athletes put on themselves to succeed in the Koshien tournament to achieve glory is a great deal. For them, Koshien is the big leagues and it's where all the big names began their careers. Ever since Shohei Ohtani raised the bar for Japanese baseball players, athletes strive to be the next Ohtani.