Sacred Heart's clubs drive pioneering social change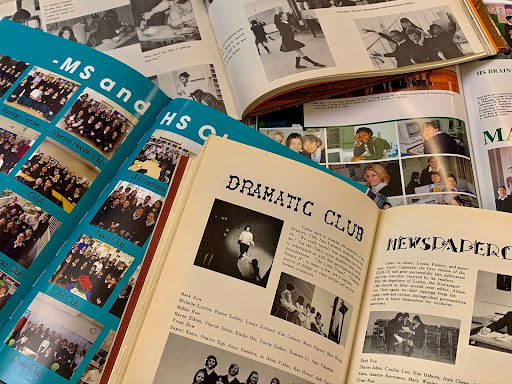 The existence of club activities can be found in every volume of the yearbook in the school library, dating all the way back to the 1950s. Although each club gathers for fewer than 30 minutes every session, these meetings immensely impact our community. ISSH has over 20 clubs as of the 2022-2023 school year. Each club – ranging from art to math, gardening to coding, advocacy of social issues to competition in sports events – contributes to building the school's sense of community where students from all grades can collaborate. Clubs inherently give students opportunities to explore their interests, and through the years, they have also taken on a pivotal role in providing a safe space for students to voice their opinions and advocate for causes they believe in. 
Out of all the clubs in Sacred Heart today, three outstanding clubs have contributed significantly to social causes in our community: Amnesty International, Art Club, and GSA. 
Amnesty International

 
Year Founded: 1978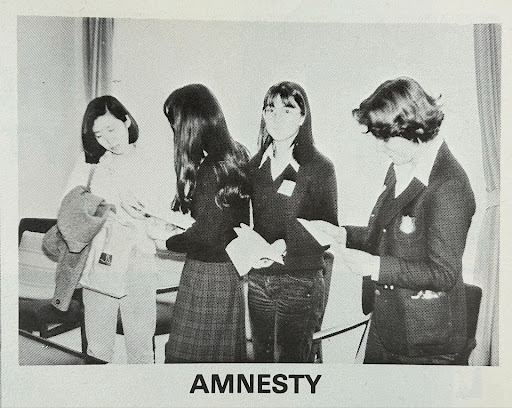 Known for being one of the oldest clubs in ISSH and its support for international human rights issues, Amnesty International Club — a chapter of the global social organization, Amnesty International — has existed in Sacred Heart under the same name ever since 1978. Mr. Mark Felstehausen, who has sponsored the club for almost 20 years, recalls that through Amnesty International's long history, the club has consistently aimed to "shine the light on injustice," tackled problems from around the world, and saw the change take place in real time. 
To accomplish the goals of creating positive social changes, Amnesty International's members write petitions to call for changes in specific social issues such as education for women in Afghanistan (22-23), or boycotting the persecution of Rohingya people in Myanmar (20-21), and have received feedback from stakeholders such as Nestlé and fast-fashion companies. Through working on these projects, the club also positively impacts the ISSH community by encouraging students and faculty alike to act for the greater good and spread awareness on issues that may have otherwise not been recognized. Indeed, Amnesty International truly encompasses the core values of Sacred Heart — contributing to society for the benefit of all.  

Art Club
Year Founded: 1973
Previous names: Art History (1973), Art & Ceramics (1974), Art for Humanity (2010)
Though the club has had many different names, from "Art and Ceramics," "Art History," and "Art for Humanity," to what we now know as "Art Club," it has established a special place in the ISSH community since 1973. Art Club's fundamentals trace back to providing a free outlet to create art for any students who are interested in visual and creative art, regardless of their skill levels. Students are encouraged to express their creativity through various projects including making posters, crafting booklets, creating ink drawings, or simply painting. Additionally, the club is run entirely by the students themselves, creating a flexible environment that leaves room for the students to explore their artistic ambitions.
In recent years, Art Club has evolved so that it not only provides students with space to create art, but also focuses on connecting their love for art to helping social causes. Mr. Amster, the sponsor of Art Club, states that members think about how they can redirect their club to "use [their] skills and passion for art for the wider school community." One memorable project taken on by the club is their collaboration with TASSEL, which auctioned artworks made by students to raise money for Cambodian schools. Art Club's rich history in the Sacred Heart community and their unique and creative contributions for the greater good mark their significance to ISSH.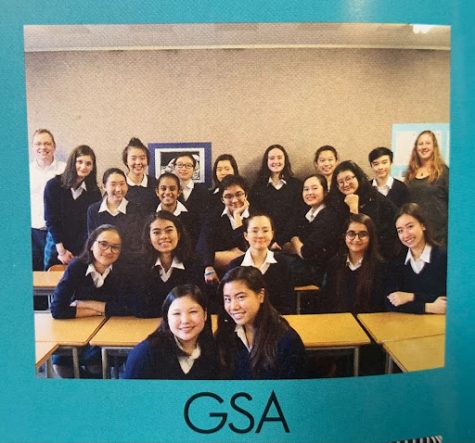 GSA
Year Founded: 2015
Previous name: Gay Straight Alliance 
Founded in 2015 by the 12th grader Nana Pearson ('16), the GSA club's unique establishment originated from Nana's innovative AP English Language project which aimed to create a club that provided a safe space for members of the LGBTQ+ community as well as other allies in Sacred Heart. Over the past eight years, the name GSA – first standing for "Gay Straight Alliance," evolved to become the "Gender and Sexuality Alliance". According to Ms. Aja Niedorf, a previous sponsor of the club, rather than creating a dichotomy between "gay" and "straight," the leaders believed that the GSA should focus on the larger "spectrum" of identities. 
In the past, GSA members have advocated for LGBTQ+ issues through making assembly announcements and attending Gay Pride events in Tokyo. Additionally, they distributed brochures during Family Festival which shared the personal experiences of the members of the club and spread awareness of LGBTQ+ issues. Ms. Niedorf further recalls that a meaningful contribution that the GSA made was their proposal to include 'navy blue trousers' in ISSH's official dress code, allowing many students to dress in more comfortable ways.   
Like the aim of the GSA from its inception, which was to "create a safe environment for the LGBTIQ (Lesbian, Gay, Bisexual, Transgender, Intersex, Queer) community within ISSH and ultimately spread awareness within the Kanto international schools," GSA has made pioneering reforms to ISSH and left a lasting impact on our community.