2015 excursions highlights: sophomores
The sophomores travel to Tanzawa and Hakone
The sophomores initially felt slightly unnerved by this year's excursion to Tanzawa and Hakone, especially since one of the main activities, the trip to Owakudani, was cancelled due to recent volcanic activity. However, the sophomores were quickly reassured that this year's excursion was going to be as great as any other year.
The one activity that stood out the most was rock climbing at the "Pump" rock climbing facility in Kawaguchi, Saitama prefecture. The students were all amazed when they walked into a room with 10 meter walls, all covered in rocks. "When I entered the rock climbing facility, I felt extremely nervous, especially after seeing how high the walls were, but I was also extremely excited," said Kaiya H. (10).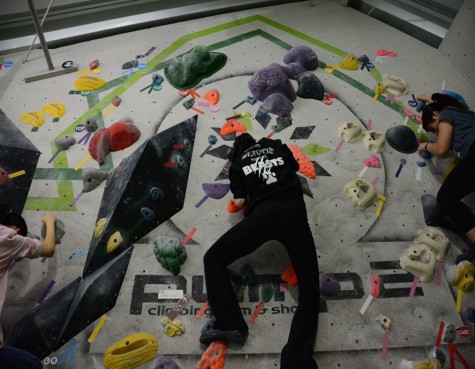 The sophomores were able to experience both rock climbing and bouldering at "Pump", which were both new experiences for most students. Although everyone started off with the easiest climbing courses, they quickly realized that rock climbing and bouldering were not easy sports. "As a person who has a fear of heights, I was very hesitant of climbing the 10 meter wall at first. But when you go on the first step, you realize you can't really say 'I can't do this anymore' so I just kept going. I was too busy thinking about getting it over with that I forgot the fact that I was 10 meters off the ground," said Ayu K. (10). Despite the sore arms, painful fingers, and genuine fear of being 10 meters off the ground, the sophomores nonetheless enjoyed the experience. The thrill of climbing to an extreme height and the feeling of achievement after reaching the top made the students want to climb more and try different courses.  
Not only did going to "Pump" give sophomores the experience of climbing and bouldering, but it also allowed the grade to form a strong bond. "Cheering each other on made us closer because it helped us feel more motivated to reach the top. It was so nice to see people cheering each other on," said Naya T. (10).
Another highlight of the sophomore excursion was the grade bonding time. Unlike in previous years, the cabin groups were arranged in a way that students were grouped with both their close friends and people they were less familiar with. This allowed the sophomores to become closer to different people. During the meals, the sophomores sat next to people they usually did not have to opportunity to talk to. Excursions is said to be a trip that brings the grade together, and this year's sophomore trip truly did.