Packing Lanterns for Nepal
This December, ISSH is giving eight students an opportunity to take part in an 11-day trip with Nepal SEEDS to investigate, study, and experience the condition and culture of Nepal today. The students will be delivering solar lanterns to two primary schools in Nepal to promote the children's learning.
Nepal SEEDS is a Social Educational Environmental Development Service that was established in 1998 by a Nepali tour guide, KP Kafle. This non-profit organisation's mission is to provide funding and advice for local communities to improve their standards of living, including their education, health, water supply, and environment. A crucial aspect to the success of SEEDS is the cooperation and trust between the developing communities and KP Kafle and his crew.
ISSH is privileged to have this connection through Mr. Felstehausen, high school social studies teacher, who developed a strong bond with KP during his trip to Nepal for a university study program.
The ISSH SEEDS trip occurs once every two years, and this year's will be the third. This year's group, consisting of Julia (12), Karen (11), Miya (11), Saya (11), Hana (10), Katie (10), Lisa (10) and Mizuki (10), chaperoned by Mr.Felstehausen and Ms.Niedorf, prepare for the trip every week by researching individual topics and creating original projects to present their findings from this trip through personal points of interest.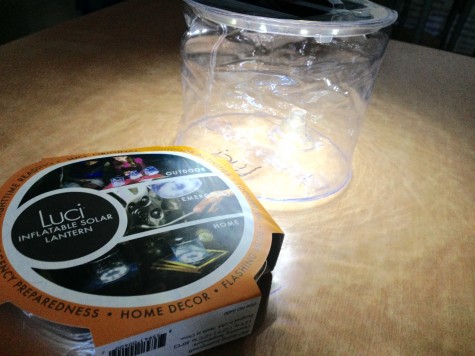 One main project as a group is the introduction of inflatable solar-powered "Luci Lights" to aid Nepali students to study in a well-lit environment. They are manufactured by a company from New York City called MPOWERD, which aims to provide the world with affordable and environmentally friendly micro-solar products. The cylindrical lanterns are light and portable, which ameliorates the distribution of light. They measure about 13 centimeters in diameter and 10 centimeters in height and deflate to about 2.5 centimeters. The funds to purchase these lanterns were raised by the past year's Mathathon event, when participating students were sponsored to complete worksheets of math problems that helped them to prepare for exams.
The group will have the chance to visit two UNESCO World Heritage Sites: Patan Durbar Square, which is a Hindu temple complex within Kathmandu Valley, and Boudhanath Stupa, a Tibetan Buddhist temple which marks the largest stupa in South Asia. They will also trek to Shree Manakamana Primary School and Bondevi Primary School to deliver the boxes of Luci Lights.