Hayley Atwell, a British-American actress once encapsulated action movies as "[a]nything fast and dangerous and involving guns." As expected, audiences walk into theaters anticipating rushing whitewater rapids of backflips and chases, rather than of tears and soul. Yet, Marvel's "Black Widow" leaps out of that current and creates its own flood of breathless thrill and heart.
From the first scene of the film, the director (Cate Shortland) captivates the audience with melancholy. As Lorne Balfe's half-step piano softly soundtracks twinkling fireflies and a smoldering sunset, the team of Russian spies living their happy-American-suburban-family life walks into a nightmare — their mission ends, the two little girls are repatriated and trained as killers.
21 years later, Natasha Romanoff (Scarlett Johansson), long since fled from that past, is forced to brave it again. Reuniting with her broken family — Yelena (Florence Pugh), Natasha's dynamic sister with a childlike desire for independence and love; Alexei (David Harbour), her insecurely-arrogant dad, at one point compared to a pig; and Melina (Rachel Weisz), her reserved huntress-vibe mom — Natasha sets off to kill the man who shattered their lives. With beady eyes, shameless cruelty, and drawling manipulation, the blood-frosting villain, Dreykov (Ray Winstone), exudes tyranny.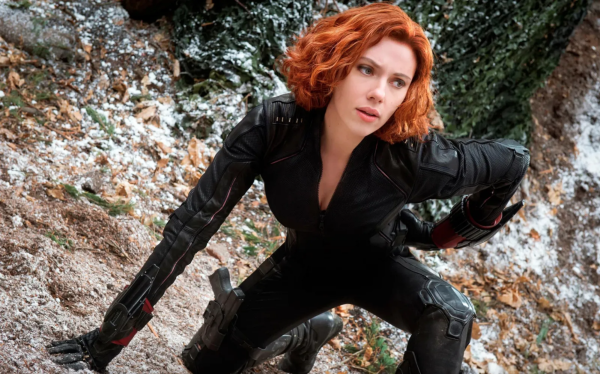 Manifesting conventional Marvel cinematic technique, audiences are swept from the tornadoes of the USA to the blizzards of Norway, Hungary, and Russia on whirling planes, zooming cars, screeching bikes, and run-down helicopters, with plenty of wince-worthy hand-to-hand combat. Through it all, Balfe's streaking symphony is a flurry of snow and ice. 
Russian accents coupled with humor, will keep laughs rolling with the 'r's. Marvel's crafty comedian pops by in Yelena's sly comment that Natasha is "totally a poser", a shout-out to anyone who's ever wondered why all the girls have to hair-flip and the guys have to gaze-afar.
Throughout the film, avoided eye contact, awkward silences, and tense vocal chords attest to a fear we all hold, whatever guise it dons: being hurt. In one scene, Melina, entangled in yearning, asks Natasha, "Tell me, how did you keep your heart?" Her answer, as tears cut across her cheeks: "What you taught me kept me alive." And they were kept alive, even through the most spirit-gripping moments of the final battle. For, when the dust settled, fireflies glowed amidst sunrise as the family looked into each other's eyes, bound by fire, blood, and hope.
Ultimately, "Black Widow" is not a story of spies, guns, or even heroism. (Sorry, Hayley Atwell.) It is a story of rising side-by-side above the scars that make you. It is about asking, as Yelena did, "What is your story?", and writing it together.