A new postcard from the Class of 2014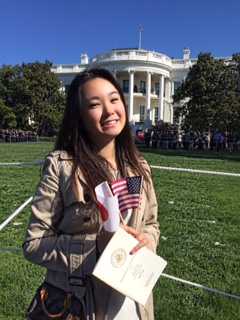 Darya , Writer
May 14, 2015
Tamami Yoshida
Where are you?
I'm at George Washington University in Washington D.C.
Why did you choose this location?
I chose this location because I wanted to study international affairs, and D.C. is the ideal place to be for that.
What's your favorite thing about your school so far?
My favorite thing about my school is the campus and location, because it is in the heart of D.C. and is a block from the White House and the National Mall.
Have you experienced a cultural shock?
Not having a combini was a huge shock to me, as well as not being able to speak in Japanese at all.
What has been the hardest thing to adapt to?
Living with multiple people was definitely the hardest thing to adapt to. I had two roommates and shared one bathroom with them. Though I am very close with them now, we have definitely fought about the cleanliness of the room, and who didn't fill the Brita.
What's something you would tell ISSH girls who are thinking about this city/school?
If you are interested in international affairs or political science, D.C. is definitely the place to be. Though it is the nation's capital, it has a different feel compared to Tokyo. G.W. is a city campus, so you might not get a "college campus" vibe, but it's nice to say you live next to the President.
When are you coming back to Tokyo?
I am back in Tokyo, and I will stay until June 2015.