Can't study at home?
Alternative study spaces In Tokyo
As the year continues, all of us are getting busy with school, homework, and tests. With piles and piles of lab reports for science and the hours of reading for Social Studies, many people have started looking for alternative spaces to study to get out of their homes. However, finding the right place is difficult. High-speed wifi, a quiet atmosphere, power sockets, affordable pricing are among just a few of the many priorities to keep in mind when finding the right place to study. 
According to a study in the University of Illinois, summarized by the New York Times, an ambient sound of 70 decibels (typical to a coffee shop bustling) increases concentration. In other terms, quiet chattering and the sound of keyboards clicking helps you to work more efficiently, compared to your home, which has the background loud chattering of your family distracting your focus. Further, going somewhere to specifically study, rather than just studying at home, is motivating and brings a sense of purpose.
 The most common place you would think of studying would be Starbucks!  Sometimes going to Starbucks with your friends might be worthwhile and quite fun. However, going there to study and staying there for hours might bother people coming in just to chat and have a sip. But the overpriced coffee, cramped environment, and loud chatter is a dealbreaker. 
 The biggest problem with finding a well-balanced space is that it is hard to tell from the first impression. As time is a valuable asset, going to multiple spaces and searching for a place that fits the criteria is time-consuming. For that reason, here are some affordable and safe alternative study spaces for you to check out.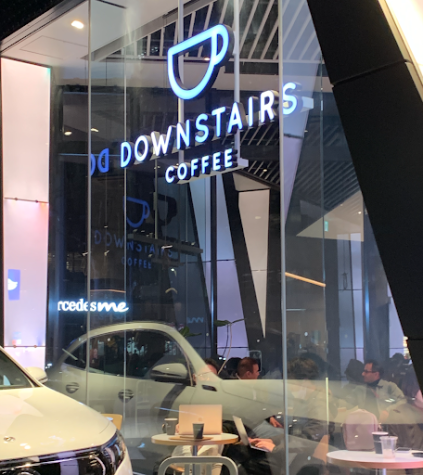 With great wifi, good table space and a calm vibe, Downstairs Coffee is great for studying after school with your friends or alone. The cozy vibe of the cafe, the music, the sound of the coffee machines and the wave of quiet indistinct chatter makes this an exquisite place to concentrate. Even though it is a cafe, unlike Starbucks, this cafe isn't cramped up or noisy. It has lots of space for working, including solo tables with power sockets and over fifteen round tables for a group of two or four, as well as free wifi.
The solo tables have a wide workspace making them suitable for laptops. They are also usually very quiet, making them perfect for those who want a quiet study session. On the other hand, depending on where you sit, it also feels quite comfortable to talk with friends.
This cafe is also suited to study after school as it is 10 minutes by bike or one station from Hiroo away by train. It is connected to Mercedes Me and is very easy to spot from across the street. On top of this, it is open till 8 pm, allowing a good amount of time to study after school.
They also have quality coffee, as well as some non-caffeine options. The coffee also looks appealing, as the barista makes a heart using foam on top. Snacks and cakes can also be bought from the counter if you get hungry during your study session.
Even though they have many great qualities, one thing to keep in mind is the price. The cafe doesn't have a table charge, but you can sit in there for a few hours after buying a coffee. Even though the price is lower than a Starbucks coffee, they are a little high with 430 yen for a latte and a 420 yen tea. However, it is a great place to study alone or with your friends and get a large amount of work done after school. 
Another alternative study space is coworking spaces. As most of these spaces are priced by day, they are the best places to study during the weekends. One can pay the fees and go in or out whenever they would like during the day. Accommodatable to anyone and their needs, they are very flexible places to study.
The best part about these coworking spaces is free coffee. SPBS coworking space in Toyosu offers one free drink per day. This may include coffee for caffeine lovers or tea and other decaf options for others. Once you've had your free coffee, buying more drinks and snacks is also possible.  SPBS working space also offers student discounts of 10% and cost around 2,750 yen for a day and 1,100 yen for an hour (student discount exclusive). 
While studying in the SPBS coworking space, you are wholly surrounded by a book lounge, which gives a sense of academic comfort and motivation. SPBS coworking space also offers ventilation and sanitized surfaces in a COVID friendly space, which is an important thing during this pandemic. 
One discouraging fact would be the location. Being less popular, it might be hard to find this space as it is at the back of Lalaport in Toyosu.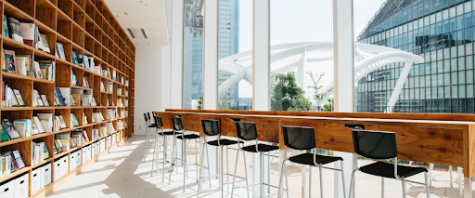 Co-edo in Kayabacho
Cheaper places like Co-edo in Kayabacho also can be found.  The price is 1,100 yen for one person for a day and 550 yen for two hours according to the official webpage. They offer four kinds of drinks for free, including green tea and coffee. You can also bring your own drinks and food inside. Although flexible, productive, and affordable, Co-edo isn't commonly used around Tokyo. Being an "unpopular" spot, it is calm, quiet, and almost secretive.
Coworking spaces usually have memberships for regular customers and hourly rates for first-timers. This is also the case in Co-edo. With multiple packages to choose from, listed on the webpage, frequently visiting could also save you quite a bit of money.
Coworking spaces like Co-edo and SPBS are perfect for studying during the weekend, especially if you have the whole day to study. On the other hand, these places are not that great for going to study for an hour or two. The hourly rates are quite high with Co-edo costing half of the daily rate for two hours and SPBS costing a little more than a third for an hour.

Station Work
Open hours: usually 7 a.m.- 9 p.m.
Examples close to ISSH: Ebisu Station, Shibuya Station, Osaki Station, Akihabara Station
One of the major and upcoming study spaces is StationWork operated by WeWork, a company that is dedicated to providing flexible workspaces. StationWork has many options, but one of the most interesting options are their Station Booths. Station Booths are little study/work booths with everything you might need; a table, wifi, noise cancellation and availability for one or two people. They also include a power supply and are air-conditioned to provide a comfortable environment. This allows studying in the open and safe environment of the station, and at the same time in the silence and calmness of the booths.
Although Station Booths are small, the popularity comes from the convenience of them being right at the station. They have all the necessities needed and at the same time are affordable. Starting from 275 yen per 15 minutes, it is a great place to go and finish homework or study for a test. You can reserve it beforehand on the webpage or go in whenever it's free. 
Although Station Booths are a great place to cram a 30 minute to an hour study session between travel destinations or appointments, it is unsuitable for studying for a day. This is because it is a small cramped up space, and might feel suffocating to stay in for a long time. It is also quite expensive for a long session, costing around 4,400 yen for 4 hours.