Earthquakes leave Nepal increasingly vulnerable
A month has passed since the devastating 7.9 magnitude earthquake, and nearly two weeks since the second, almost equally severe 7.3 magnitude quake (with a different epicenter) struck Nepal. The death toll from the earthquake which occurred on the 25 April, has risen to 8,500, and according to UN estimates, over eight million people have been affected by the 7.9 quake. 2.8 (approximately 10 % of the population) million people have been rendered homeless, the second quake only further worsening the already dire situation.
Although bureaucratic delays and complications with getting rescue workers and relief materials through the airport has slowed down relief efforts, the situation has improved, and aid is now flowing into the country. Despite relief efforts, the victims still continue to suffer. Many people are still missing, and many unable to take shelter in their own homes are sleeping outside.
All staff members of the non-profit organisation Nepal SEEDS, that ISSH has been supporting for over a decade, have been confirmed safe. KP Kafli, head of SEEDS, has returned from Mt. Everest, having trekked back into the region running a needs assessment around the Pharping region, and another heavily affected region in the Manasulu mountains. However, there has been massive amounts of destruction of buildings and infrastructure throughout the country, and the schools we are in direct support of also have been damaged due to the quake.
According to Shyam Basnet, school headmaster of Shree Manakamana Primary school, which ISSH supports, their school has been partially damaged. This disaster is a grim setback for the children's education, for they may have to run classes outside due to property damage.
The status of Bandevi, the other school ISSH supports, is still unknown. It has been reported, however, that some of the schools in the same area are scheduled to reopen on Friday, May 29.
Another issue is that, with monsoon season is approaching, rebuilding efforts may be extremely difficult.
"Malnutrition in Nepal was already 35 percent. One in three kids suffer from malnutrition in that area. After this disaster, matters would be worse," says Mr. Felstehausen, one of the teachers who take ISSH students to the biannual SEEDS Nepal trip.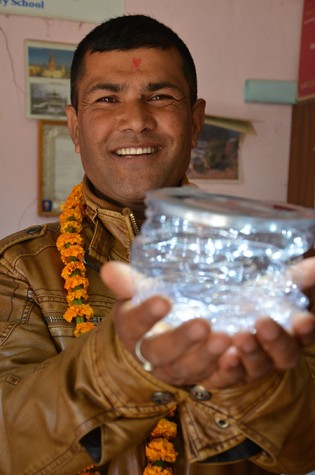 So far, our school has raised and sent more US$6,000 to the SEEDS emergency relief fund. The ISSH community is still continuing with various fund-raising events to keep the SEEDS project going to stay in support of the schooling program in Nepal.
"It's obvious that we will need long-term support for the rebuilding in Nepal. Their need was great before the earthquake and that need is obviously much greater today," said Mr. Felstehausen.