Was Kamila Valieva a victim of child abuse?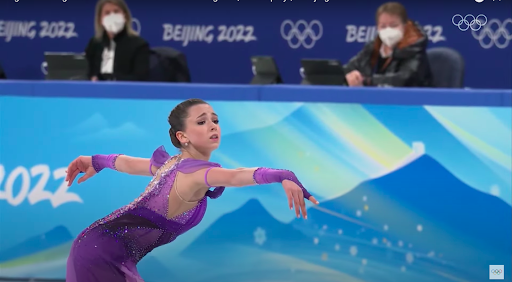 The 2022 Winter Olympics held in Beijing ended with a luminous closing ceremony that brought its games to a harmonious conclusion. Figure skating — a popular event woven with elements of art and sport — had yet another exhilarating season from Sui Wenjing and Han Cong's victory in pair skating to Yuzuru Hanyu's attempt at the world's first quad axel. Following growth and victories, the Russian Olympic Committee had entered the Women's Single program with confidence in their young athlete, Kamila Valieva, the world record holder for both the short and free program and total scores. In contrast to all the victories and successes lies a case that was avoided by the end of the games: 15-year-old Kamila Valieva's doping scandal.
The news broke on February 8: Valieva failed her drug test, testing positive for the use of trimetazidine. In the following days, the media uproared over a public debate about whether or not she should be allowed to participate; if it was fair for the other athletes not to receive a medal if she were to place in the top three; if the test results were even real in the first place. Her participation in the Women's Single program was not the only problem though. Valieva had already brought victory to the ROC's skating team on February 7, after her sample was taken back on December 25, 2021.
After a few weeks the International Olympic Committee (IOC) confirmed approval of Valieva's participation: she would be allowed to compete in the Women's Single program, but if she were to place in the top 3, no medal ceremony would be held. The decision was announced after Valieva scored 82.16 earning herself a stable first place for the short program, which caused another wave of controversy. As one of the top athletes, it was expected for her to place in the top 3. Was this fair for the other athletes who wouldn't receive a medal for their achievements?
Doping is the use of banned substances to enhance an athlete's performance in competitive sports. Doping, unfortunately, has never been a rare case in the history of competitive sports. The number exceeds at least 1,000 cases every year, and Valieva happened to be one athlete testing positive for trimetazidine. 
What exactly is trimetazidine? Trimetazidine is a fatty acid oxidation inhibitor that helps enhance the body's oxidation and is commonly used to treat heart conditions like angina. It is listed as a Hormone Metabolic Modulator on the World Anti-Doping Agency (WADA)'s prohibited drug list — which the IOC follows — as it violates their first policy of the prohibited drug list: "[the substance] has the potential to enhance the athlete's performance." Trimetazidine improves an athlete's performance by enhancing the heart's energy metabolism. Written in the IOC's Anti-Doping Rules handbook, doping by definition is: "the occurrence of one or more of the anti-doping rule violations," which includes the responsibility of "any Prohibited Substance or its Metabolites or Markers found to be present in [the athlete's] Samples." 
Two days before the Women's Single free program, on February 15, Valieva's legal team claimed that the trimetazidine was presumably consumed via Valieva's grandfather's drug-contaminated glass of water. There are, of course, countless other possibilities as to how the drug entered Valieva's body. What are the chances that Valieva consumed trimetazidine through her coaches and not her grandfather's glass? 
The response to the statement was mixed. Many athletes showed sympathy through their shared efforts competing in a global event, like Alexia Paganini, representing Switzerland; however, her response was unequivocal, stating "rules are rules and they should be followed" in an interview with the Boston Globe. Some showed no sympathy, a reasonable reaction to a case with a supposedly clear answer. Yuna Kim, former figure skater, and 2010 Olympics gold medalist posted on Instagram, expressing her opinion opposing the approval of Valieva's participation. 
Some criticized the IOC's process of the final decision. Doriane Lambelet Coleman, a professor at Duke Law School, in an editorial in the Washington Post wrote that such decisions must "be based on law and evidence". They cannot be solely based on history or political views regarding Russia's doping history. This case was not controversial regarding the topic of doping itself but in Coleman's view "characterized by the absence of evidence — both for her opponents to prosecute her and for her to defend herself." Other responses were directed at the Russian Anti-Doping Agency (RUSADA) for its delay in sending Valieva's sample. According to the TASS Russian Agency, WADA stated that RUSADA did not mark Valieva's sample as a "priority" despite the reminder of standard time limits for sample analysis to be executed on time. WADA had informed RUSADA in advance to label all athletes' samples as a priority due to the co-existing delay due to a COVID-19 outbreak among the staff members. 
Despite all criticisms, what the public fails to acknowledge is the fact that Valieva is still a child. If Valieva's legal team's statement is false, it is hardly believable that her fifteen-year-old hands got access to the substance without the intervention of an adult. Throughout the past few months, her name is often seen to be followed by words along the lines of "blamed," with no mention of adult responsibility. The ROC is known for its highly competitive athletes who are in many cases successful, but also short-lived. Many of their athletes end up working themselves into permanent injuries forcing them to retire at no older than 19 after competing in only one season. All of ROC's past figure skaters from 2018 Olympics champion Alina Zagitova to two-time Olympics silver medalist Evgenia Medvedeva have both retired before reaching the age of 20. Zagitova hasn't been seen skating competitively since the 2018 Olympics, and Medvedeva retired due to a chronic back injury. We wouldn't expect to see our 2022 Olympics champion Anna Scherbakova or silver medalist Alexander Trusova in four years, either. 
These Russian athletes' coaches are to blame for their short careers. It is not a rarity for young Russian athletes to be victims of physical, verbal, and emotional abuse, especially those training under Eteri Tutberidze, coach of the Russian team (which includes Scherbakova, Trusova, and Valieva), or "Eteri girls". They are starved during competitions, only drinking water, and forced to take Lupron to delay puberty, according to Anastasia Kuprinya in an interview with the Guardian. Not only do Tutberidze's "tactics" result in severe emotional effects, but it also results in Eteri girls having a high chance of overworking themselves into permanent injuries. Yulia Lipnitskaya, a former Eteri girl, suffered from chronic anorexia even years after her retirement in 2017. Lipnitskaya "wishes she'd spoken out about her illness earlier", she states in an editorial written by CBC News. 
Valieva finished her program placing fourth overall. She was not met with words of comfort or praise but instead with an attitude of resentment and disappointment. Valieva's spotlight was cut short; whether or not we will see Valieva skate in the Olympics again remains unclear, but she is set to return to a Russian-only competition. 
Critics speak out on the high frequency of child abuse in sports, especially in the Olympics.
Is it fair to direct accountability to children, instead of the adults who are responsible for them?