Santa Forgot the Victory but Brought the Cheer
Symbas face Zama Trojans in their last game of 2014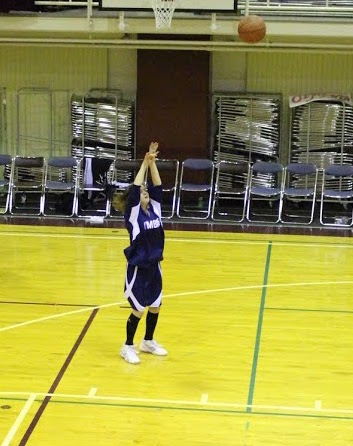 "Offense wins games; defense wins championships"
With Bear Bryant's wisdom in mind, the Varsity Basketball team played their last game of 2014 on December 16, against the Zama Trojans.
The Trojans got off to a flying start, as they surged in towards the basket, and overran the Symbas man-to-man defense, leading to easy layups and shots. The Trojans lined up with a tight zonal defense, defending far shots, and blocking any Symbas attempts to penetrate. As the Trojans led the Symbas by 4-0, Symbas started to tighten the defense and work together as a team to block the two players who were constantly penetrating and scoring shots.
Symbas soon intensified their game and got a foothold in the match with a shot by Signe (10), ending the lead by the Trojans, and tying up the game.
Tit-for-tat scoring ensued: each time the Symbas scored, the Trojans scored an equalising shot.
The game continued with a close score between the two teams. Every time the Symbas scored, the Trojans would score, continuing the back and forth.
However, by the second quarter the Symbas struggled with defending the basket, giving away many fouls to the Trojans. Most of the starters, Signe (10), Joyce (10), Miya (11), Anna (11), and Kolora (11), committed a foul trying to defend the Trojans fast break and shots. With the constant fouls called by the referees, the Symbas struggled to defend the basket. "Our defense was on point during the second, third, and fourth quarters, but the continuous fouls gave the other team an advantage," said Kolora (11), one of the starters of the game.
By the end of the half, the score was 17-15, with the Trojans leading the Symbas. The game continued with constant pressure from the Trojans. They attack aggressively and received fouls, allowing them to make easy shots. By the end of the third quarter, the Trojans led the Symbas by 24-20.
In the fourth quarter, Signe (10), the top scorer of the game, scored 10 points from shots from the sides and receiving fouls from the Trojans. However, the powerful Trojans offense pierced through the Symbas defense, and continuously scored far shots and lay-ups.
In the end, the Symbas lost to the Trojans by 32-24. Coach Cervantes, the varsity basketball coach, recalled the game saying, "The game was close until half time, but foul trouble kept us out. But in terms of defense we only had one steal and only four turnovers. Defense wise, it was a great game."