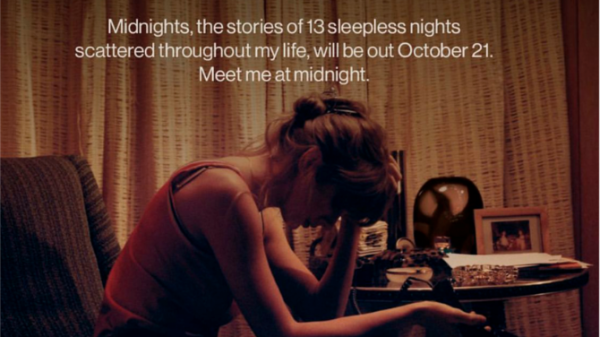 Taylor Swift released her 10th studio album, "Midnights," on October 21st 2022, and once again the world has gone mad. With no surprise, Swift broke streaming records and created history with this momentous album. Having left the pop sound in 2019, the musician has reverted to it and explores how she views herself and how others view her.
"Midnights" is a concept album about 13 midnights throughout her life. Swifties, or anyone who has followed Swift's presentations over the years, are very aware that she is abnormally obsessed with the number 13. "Midnights" carries a synth-forward energy that's a direct descendant of her pop trinity – "1989", "Reputation," and "Lover." 
Throughout the album, Swift narrates her journey navigating raw love and recalls painful past relationships. However, the most effective comment she makes is about what it's like to be continuously narrativized by the media. This album is one of her messiest yet one of her most vulnerable.  Nevertheless, it embodies the distinctive qualities of her music – catchy hooks, strong melodies, and deep lyrics. A syrupy synthesizer fills the songs on this album, giving it a slow, astral feel as if she were trapped inside a reverb chamber. 
Her villain origin story is summed up on the album's shimmery closer, "Mastermind," which hints at how she came to be a villain through her enchanting lyrics: "No one wanted to play with me as a little kid, so I've been scheming like a criminal ever since, to make them love me and make it seem effortless"
A highlight of the album is "Vigilante S***," a willowy, moody, electric song about an antagonist brimming with narrative power: "Draw the cat eye sharp enough to kill a man/You did some bad things, but I'm the worst of them." Here, Swift is embracing her character role — it's funny, wry, and somewhat disturbing at the same time.
Unlike Swift's two previous albums, "Folklore" and "Evermore," which are indie-folk, Midnights is a synth-pop album. Of course, anything popular suffers a backlash, and Swift is no exception. Controversy raged on the album's release as self-proclaimed Swift purists bemoaned the musical departure from those previous albums', indie-folk sound.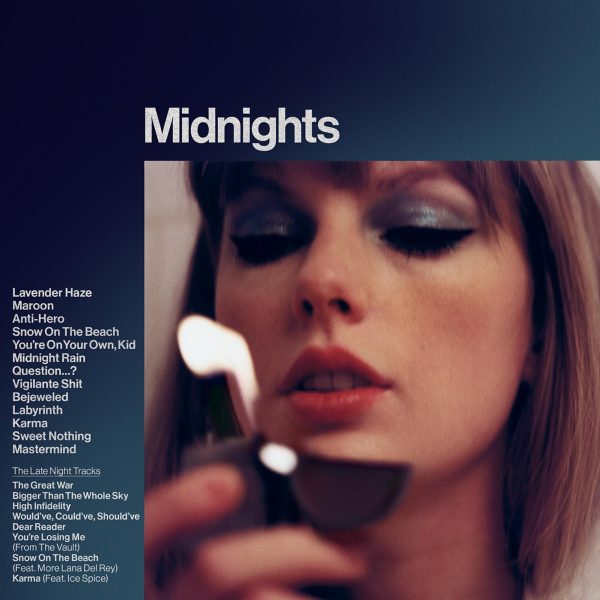 Swift's songwriting ability shines through with this album. Her ability to convey raw emotions and paint vivid pictures with her lyricism is astonishing. The concept of this album of her going back and revisiting different times of her life makes the songs very relatable for many different audiences of all ages as they will all have a song to relate to. In songs like "Midnight Rain," she reflects on her teenage years. Other songs, like my personal favorite, "You're on your own, kid" seem to show Swift reflecting on her whole career in music. This song is very vulnerable, as it recounts the journey of a young person who longs for love but eventually understands that they are on their own as the song concludes. The build-up of the background instrumentals emphasizes her growth throughout the song and gives the listener a sense of comfort as she ends the song with the lyric "You've got no reason to be afraid". Her storytelling within the lyrics in this song is outstanding. Lyrically and vocally, these songs sounded like a song from her album "Red" but more intense. 
With "Midnights," Swift straddled a delicate line between confession and being polished. Unlike previous work, this album doesn't name-call anyone (although you can guess who "Spiderboy" is), but in "Midnights," she's willing to disclose her flaws for the first time publicly.
Other songs on this album like  "Labyrinth" emphasizes how she doesn't need many words to get her emotions across and how her vocals do that for her. She repeats the lyrics "Oh no, I'm falling in love" three times in a row, and each time you hear how her emotions change. The first time she says it, it's a moment of realization. The second time it's a moment of fear. And the third time it's a moment where she finally accepts that she's fallen in love. She is able to convey all three emotions all from the same lyric truly shows how talented she is, and makes her a great singer-songwriter. The use of her lower register in songs like Maroon has proved once again that her lower register is superior to other female artists. 
Additionally, the production quality of "Midnights" is impeccable. The album seamlessly blends various genres, from pop to alternative, showcasing Taylor's versatility as an artist. The lush instrumentals, meticulous arrangements, and clever production choices create a captivating sonic landscape that keeps the listener engaged from start to finish. This attention to detail has to be something that makes Taylor Swift stand out from other pop artists. 
However, not all her songs on this album are as memorable as "You're on your own, kid", "Would've, could've, should've" and "Snow on The Beach." These songs emphasize Swift's amazing writing abilities while songs like "Karma" do not. "Karma" is a very upbeat and fun song that is perfect for certain situations, but it's not something I would voluntarily listen to. When I do listen to it,  the lyrics make me cringe, and the remix with the American rapper, Ice Spice, did not make it any better. Many people like this song but its lyricism is very poor, and does not convey any real emotion. It does not stand out as an exceptional song compared to other pop hits. Karma was one of the most disappointing releases of her album.  
Despite the disappointment, there are many songs on this album that have become my all-time favorite Taylor Swift songs. With each album she writes, Taylor Swift reinvents herself, which is the foundation of her success. She's always trying something new; trying three different music genres in one career does not happen very often. Swift experimented with vocals and instrumentals to create something that she had not done before. This album carries the perfect amount of electronica and synth-pop that makes it so different yet so similar to her earlier sounds. 
"Midnights" is not just an album; it's a catalyst for artistic growth and a reminder from Swift that we have the power to shape our own journeys, which once again proves that Taylor Swift is a mastermind.