The tri-school musical "Dirty Rotten Scoundrels" takes the stage
The tri-school musical took the St. Mary's Stage from April 17 to 19.
The annual spring musical was held at St. Mary's International School from April 17 to 19. This year's musical was "Dirty Rotten Scoundrels." The production was run by students from ISSH, SIS, and St. Mary's.
The musical was directed by Mr. Hagans and the production was led by two male leads, and one female lead. The male leads were played by Mailen (12) and Angus (12), from St. Mary's,  and the female lead was played by Jisoo (11), from SIS. Jenel Li (11), who is still new to ISSH, took the stage as a part of the Female Ensemble.
"Dirty Rotten Scoundrels" is a suspenseful comedy musical about two con-artists who are trying to outwit each other and any con-artist who cross their paths. Lawrence (Mailen) believes that there is not enough room in the mythical town Beaumont-sur-Mer for both Freddy (Angus) and him. Therefore, Lawrence Jameson and Freddy Benson, the two con-artists, bet on who can extract $50,000 from a young American heiress, Christine Colgate (Jisoo).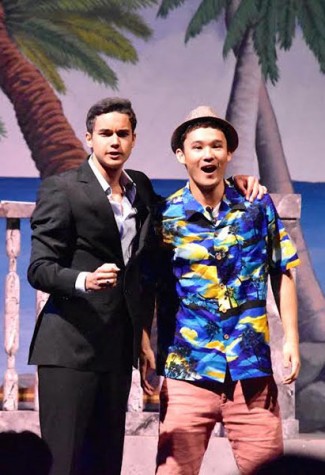 The fight to stay in Beaumont-sur-Mer begins. Lawrence and Freddy come up with separate strategies while mercilessly disrupting each other's plans. Freddy poses as a crippled U.S soldier, who needs $50,000 dollars for a treatment from Dr. Emil Schaffhausen, a fictitious psychiatrist. However, when Lawrence realizes this, he decides to act as Dr. Shaffhausen and demands $50,000 fee in exchange to curing the soldier. But soon Lawrence discovers that Christine fabricated her identity. She is not wealthy but on a vacation as a contest winner and is planning to give most of her assets to pay for Freddy's Treatment. Realizing the genuine kindness that she has, Lawrence to call off the bet. Freddy agrees to this and proposes a new bet, "the first to bed her is declared the winner."
The problem is that Lawrence starts falling for Christine. This feeling of desire mind-boggles Lawrence's most important goal, "to win the bet."
Many of the Sacred Heart girls were involved in backstage: creating the vivid set for the mythical town Beaumont-sur-Mer, helping the actors' make-up and costume, and publicizing the event. They include, Anna (11), Yuki (12), Carina (12), Yoojin (12), and Kanako (12).
"Dirty Rotten Scoundrels" was highly entertaining with a great score and script. The score includes all kinds of genre, such as country, jazz, and big power ballads, and the lyrics are both comical and sweet. The script has a jaw-dropping ending that kept the audience in their seats.
Jisoo (11), entertained the audience with her wonderful vocal range, and Mailen (11) and Angus (12), amused the audience with their exuberant on-stage chemistry.
This year's musical was one of the most enthralling stage yet. Mr. Hagans recalled the show saying, "I think that the show itself is an extremely complicated piece of theater, but the cast did an amazing job dealing what is essentially adult theater."