Taiyaki before pumpkins
Do you hear the drums? Do you smell dango? Get your hachimakis on …. It's Japan day!!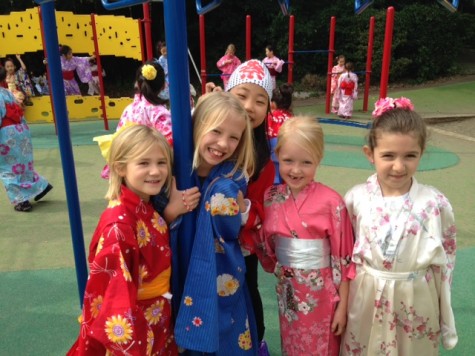 Playing, eating, and crafting: Japan Day is the day when the Sacred Heart students experience the culture of the place we call home. This year, Japan Day will be held on October 30.
In the morning, there will be an assembly organized by the Academic Council that will consist of learning Japanese dances and games that will stimulate natsukashii feelings in many students and teachers.
During the day, there will be a wide variety of mini-courses. The number of mini-courses offered increased to 34 this year because the Japanese Department wanted to increase opportunities for students to experience Japanese culture and crafts. Ms. Griffiths, this year's head of Japan day said, "We want students to be able to try different activities over the years they are here."
New mini-courses include the following: Kendo, Advanced Origami, Fabric Star Ornaments, Hand-made Buckwheat Noodles, Introduction to Shakyo, Japanese Clear Soup, Japanese Fabric Accessories, Kyaraben, Shamido, Mizuhiki Decorations, Plastic Ornaments, and Tea Ceremony.
During morning break and lunch time, there will be a mochi-taiyaki (a mochi version of taiyaki, a traditional fish shaped cake) bake sale near Ms. Omura's office and in front of Ms. Griffiths's office. The mochi will be ordered from Fukuda Shouten, a local shop that is popular among Kanagawa locals.
As a part of Sacred Heart tradition, there will also  be a bonodori session during lunch time, when the Junior School will dance to the well-known Tokyo-Ondo on the school playground. After a few rounds, the Middle School and High School students and faculty are welcome to  join in and dance as a whole school.
There is a specific type of lunch served only on Japan day: the ennichi lunch. This special lunch serves traditional Japanese food made by both the Cezars kitchen and the association of Sacred Heart mothers. The tickets for this can be bought during the week leading up to the event.   
Shayna Olson, the President of Academic Council said: "We are excited to see how Japan Day will turn out this year. We have some interesting traditional games and dances planned for the assembly and hope the students will enjoy them."