Having a kooky time at cookie time
The building was a cheerful candle in the gloomy weather we travelled in to get there; a vibrant, whimsical outlier in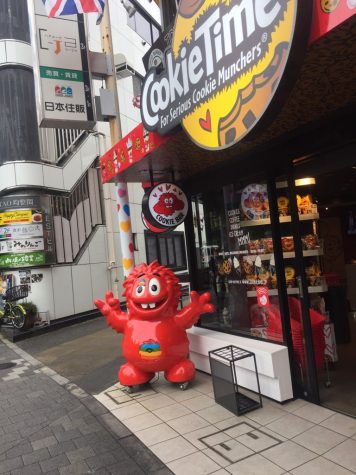 all the wetness and the greyness that we had to shake off of our jackets before we stepped in.
Stationed a two minute walk away from Harajuku's famous Takeshita Street, Cookie Time is also, of course, a loud, larger-than-life kind of place. Lining the walls are brightly lit display shelves stocked full with various cookie merchandise (including ironic mugs and stuffed animals of Cookie Time's peppy red mascot). Its shock-red paint and huge signs sporting the slogan "any time is cookie time for serious munchers" makes sure that you can spot this store from a mile away.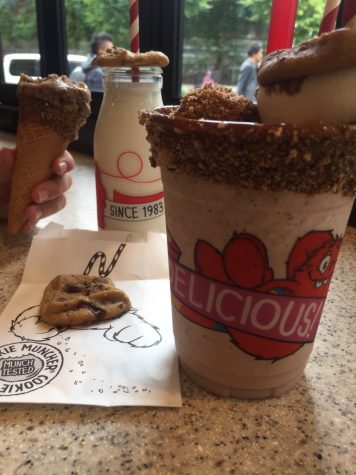 Cookie Time is the kooky manifestation of a child's imagination — complete with its own fluffy red monster ready to greet you at the door! Not to mention that the entire place is dedicated to any kid's bread and butter: milk and cookies.
Cookie Time's milk bottle combo–a glass bottle filled with the milk of your choice (coffee, strawberry, chocolate or regular) with a mini chocolate chip cookie skewered on its red-and-white striped paper straw–is the quintessential milk and cookie combo of any child's dream. And though this drink may seem like the boring option, especially compared to the store's extravagant freakshakes, for this drink, its simplicity was its charm factor. Even though the price (at ¥800) may seem a bit bloated, the price is balanced out with unlimited refills (a feature which, I think we can all agree, is rare in Japan). When finished, we had the option of either returning the cute little glass bottle and getting two mini chocolate chip cookies on the house, or keeping the bottle (thankfully, after the employees washed it for us). The milk bottle combo was a simple delight that shouldn't be overlooked by "serious munchers".
Cookie Time is a relatively small store; most of the space is taken up by an open kitchen you can look into from all corners of the room, so customers can actually watch as their food or drinks are being made. Next to the counter are colorful ice cream display cases advertising both ice cream and edible cookie dough which, like ice cream, you can order in either a cone or cup. Then, on the other side, there is another display case exhibiting all the cookies you can order — from mini to large sizes and chocolate chip to double chocolate. Besides cookies and milk, though, they also sell ice cream sandwiches, cookie shakes, milk and white hot chocolate, s'mores, and even giant cookie birthday cakes! But perhaps the most exciting is the drink that was the very reason we went to Cookie Time in the first place: the Cookie Time freakshakes.
"Freakshake" may be a bit of an overstatement compared to the foot tall monsters we see broadcasted all over Instagram — it was only slightly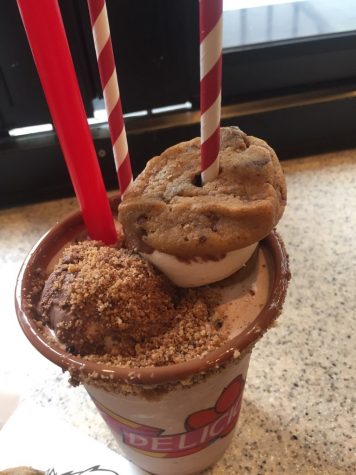 larger than the "tall" size at Starbucks. Yet, the "freakshake" makes up for its small size and hefty price (¥1,000) with wonderful assortments of creative touches and delightful tastes. A scoop of chocolate ice cream rests on the surface, next to a chocolate-infused s'more with one of the mini chocolate chip cookies that you can also receive from Cookie Time's milk combo.
Right off the bat, it's clear that this is not your typical milkshake: unlike the milk bottle, the taste of milk is miniscule compared to the meld of other ambiguous flavours that leaves a question in your mouth. Is it caramel? Almond? You don't know, but they hit all the right taste buds in all the right ways and its heaviness enhances the flavours even more. By the time you finish, most of the ice-cream has merged seamlessly with the milk, leaving you with the s'more, which, though delectable, proves to be slightly strenuous to eat for its chewiness. But then again, the messiest foods are always the tastiest. The Freakshake would have paralleled Willy Wonka's own scrumptious creations.
Cookie Time manages to stand out even amongst the eccentricities of Harajuku; its fluffy mascot and its great assortment of food and drinks makes sure that their chain cannot be found anywhere else. So, the next time you are in Harajuku walking down Takeshita Street, why not go visit this kooky cookie shop?