Alisa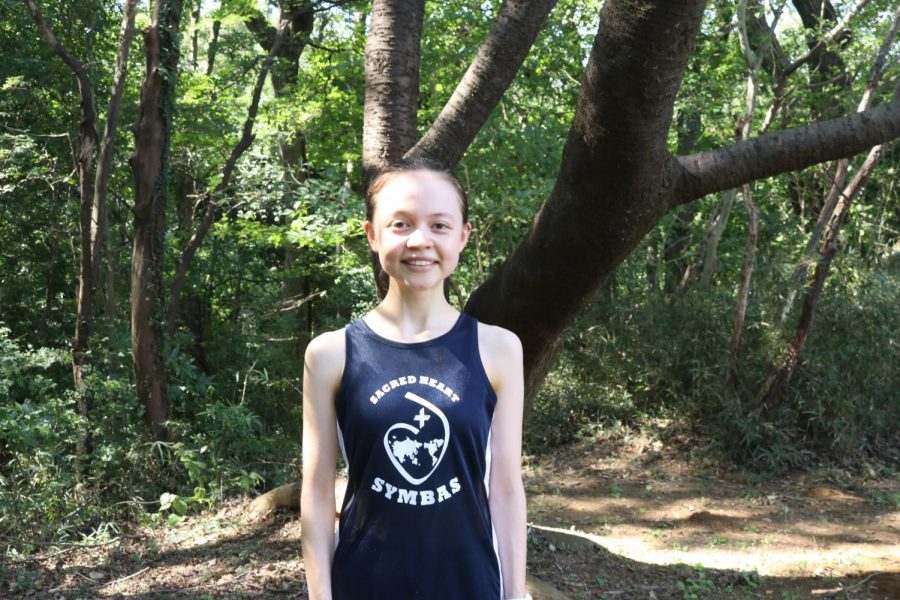 "I've always loved running. My first running experience was a mini-marathon in Boston when I was about three or four years old. In my elementary school, I was on the relay team. I just loved running. Because I've always done other sports at school that involve running but not just running, I was excited to find that cross country was a sport on its own when I came to Sacred Heart in fifth grade. 
I get so nervous for every practice, every meet. No matter how many times I've done this, even a practice run is very stressful for me. But the amount of stress is definitely higher for our meet. Because you know every time you run you're gonna feel like you're about to die. So knowing that you're going into that is always pretty nerve-wracking. But I think what motivates me the most is this amazing feeling that you feel after running. You know it's going to be worth it in the end. And just having people cheer for you makes a big difference. 
I would have to say that basketball is my favorite sport. As much as I love running, the satisfaction you get from a team accomplishment is also high. Also, working as a team is a lot harder. You need everyone to be on the same page. You need everyone to be motivated. Sometimes you're going to have moments when you don't agree on something. And you need to agree to move forward. Letting something bottle up will really harm your team, both on performance on the court, and the team atmosphere. Talking things out with your team as soon as possible is really important. It is something that I have struggled with. If you are good friends with somebody, but you're having conflicts in the team, it's hard to confront them and say things directly to them. Sports is a good way to learn to communicate with people. Despite everything, when you achieve something as a team, that's worth all the effort. 
In High School, I really appreciated sport. Even though I've been really busy, sports is something that I never even considered dropping. Although I've thought about quitting some other activities, I think sports is a key part of my life. I want to be one of those old ladies that go on runs and hikes with their friends. I think it's something that I want to continue for the rest of my life. 
This is going to sound cheesy but I don't want to regret anything this year. I don't want to be like I could have done more. Although I want to continue sports in university, I won't be able to play all three seasons, put as much effort into it as I do now. I think this is my last chance to play competitive sports year-round, so I just want to make this year worth it and have no regrets." — Alisa